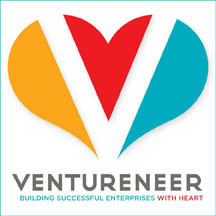 Support comes in many shapes and sizes, and from many different sources
New York, NY (Vocus) September 29, 2009
Exercise your creativity, have fun, and earn a $100 American Express Gift Card. The creative part is coming up with a name for a new video from Ventureneer. Do it by yourself or in a group. Collaborate online or meet for lunch. Watch the video, brainstorm, and generate a name that captures the spirit of this video, which is: We all need help now and then.
The best name gets the big prize. Prizes will also be given to five runners-up.
The contest is in keeping with Ventureneer's core belief that entrepreneurs and nonprofit leaders benefit from the help and ideas of others. In that spirit, Ventureneer is reaching out to its small business / nonprofit community for help naming the just-released video.
"We want to share the fun and we want to tap the creativity of our colleagues," says Geri Stengel, president of Ventureneer.
The video is the work of creative director Janet Giampietro, with motion graphics by Gestalters, llc. and audio production by Al Fritsch.
The trio used their talents to summarize a We Can All Use a Little Support Now and Then blog posting by Stengel, in which she pointed out how important support is, in business and in life. In order to succeed, people create support systems, small or large, free or for a price.
"Support comes in many shapes and sizes, and from many different sources," says Stengel. "The mix of resources you use is very individual but the bottom line is, everyone needs outside support. Share the video with small business leaders and nonprofit leaders you know. It may inspire them to expand their support systems they rely on. It will certainly make them smile."
The video illustrates this message and Ventureneer is demonstrating it by asking for help naming the video.
Submit entries to contest(at)ventureneer.com by October 23. The winners will be announced on October 30.
About Geri Stengel
Geri is founder of Ventureneer, an online education and peer support service. An adjunct professor at The New School, she honed her online experience at companies like Dow Jones and Physicians' Online. Geri co-founded the Women's Leadership exchange and is president of Stengel Solutions, a strategic planning and marketing firm.
About Ventureneer
Ventureneer.com is a new approach to learning: a blend of traditional, formal instruction with informal, peer learning using Web 2.0 technology to capture and share knowledge. Ventureneer's customized blogs, virtual classes, peer-to-peer learning, coaching, web events and articles help entrepreneurs make faster, better decisions for their enterprises.
###