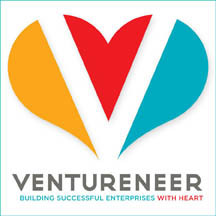 Learning how to start, grow and expand a small business is a life-long process, as successful entrepreneurs know
New York, NY (Vocus) September 9, 2009
- Before you start your own business, you should know both the risks and the rewards. Free webinars, hosted by Ventureneer.com, let would-be entrepreneurs find out both the good and the bad of entrepreneurship. The three, one-hour classes - Entrepreneurship: Is It for Me?, Developing an Idea for a Startup Business and Do Startups Need a Business Plan? - will be taught by Ventureneer founder, serial entrepreneur, adjunct professor, and mentor Geri Stengel. The sessions, which can be taken singly or as a series, will be offered on September 21st, 23rd and 24th (from 2pm to 3pm EDT each day) at Ventureneer.com.
"With jobs still hard to find, many people become entrepreneurs by necessity," said Stengel. "And I see a lot of recently and soon-to-be retired people who want to start small businesses. Most wannabe entrepreneurs have similar questions so I developed this series of webinars to answer those questions.
"Some wonder if they've got the right stuff. Others want to start a business but don't have a clue as to what type of business they should start. And still others want to know if a business plan is necessary or if it's just busy work."
With organizations like the Kauffman Foundation, which advances entrepreneurship through research and education, talking about the coming boom in "entrepreneurialism," especially among baby boomers, Stengel realized that it was time to re-run the webinars, which she first offered in the summer. Her webinars are ideal for inventors, product creators, the under-employed, recent retirees, frustrated employees, and would-be entrepreneurs, in short, anyone who is thinking about striking out on their own.
Entrepreneurship: Is It for Me? helps participants uncover the personal characteristics essential for entrepreneurial success, and shows them how to maximize their abilities. Participants also learn how to fortify themselves for the hard work of starting up a business. Knowing what to expect improves the chance for success.
Developing an Idea for a Startup Business takes participants who don't have an idea for a specific business but know they want to start something through the process of developing a concept they can be passionate about. It takes that passion to be successful.
Do Startups Need a Business Plan? tells participants why they need a business plan; where to find the information needed; and how to do one.
"Learning how to start, grow and expand a small business is a life-long process, as successful entrepreneurs know," Stengel stated. "Online learning is an increasingly popular way to acquire business skills."
To learn more about or register for the webinars, visit http://www.ventureneer.com.
About Geri Stengel
Geri is founder of Ventureneer, an online education and peer support company. She writes its popular blog, Vistas. An adjunct professor at The New School, she has mentored social enterprises entered in the business plan competitions at Columbia Business School and New York University (NYU) Stern School of Business. Stengel honed her online experience at companies like Dow Jones and Physicians' Online. She co-founded the Women's Leadership exchange -- an online and conference resource for women-led businesses - and is president of Stengel Solutions, a consulting firm for social-impact organizations.
About Ventureneer
Ventureneer is a new approach to learning: a blend of traditional, formal instruction with informal, peer learning that uses Web 2.0 technology to capture and share knowledge. Ventureneer's customized Web 2.0 learning environment -- blogs, virtual classes, peer-to-peer learning, coaching, web events and articles -- provides entrepreneurs with the support necessary to make faster, better decisions for their enterprises.
###