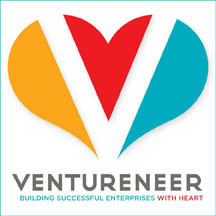 Most wannabe entrepreneurs have questions so I developed this series of webinars to answer those questions.
New York, NY (Vocus) October 14, 2009
Knowing both the risks and the rewards of starting your own business gives an entrepreneur a head start. A series of free webinars, hosted by Ventureneer, gives would-be entrepreneurs a realistic overview of the challenges ahead as well as the opportunity to ask their own questions.
The three, one-hour classes - Entrepreneurship: Is It for Me?, Developing an Idea for Startup Business and Do Startups Need a Business Plan? - will be taught by Ventureneer founder and start-up mentor, Geri Stengel. The sessions, which can be taken singly or as a series, will be offered on November 3rd, 10th and 17th (noon to 1 p.m. ET each day) at Ventureneer.com.
"A lot of people are intrigued by the idea of starting their own business and working for themselves, especially soon-to-be-retired people who have all sorts of skills they're still eager to use. And, with jobs hard to find, many people are becoming entrepreneurs by necessity," said Stengel. "Most wannabe entrepreneurs have questions so I developed this series of webinars to answer those questions."
The series has been so popular that Stengel is offering it again, providing yet another opportunity for those wondering if they've got the "right stuff." Participants will get the facts and be able to ask their own questions about taking the entrepreneurial plunge and owning a small business.
The popularity of the series reflects the interest in entrepreneurship, driven by the baby boomers, that has been predicted by the Kauffman Foundation, which advances entrepreneurship through research and education.
The webinars are ideal for inventors, product creators, the under-employed, recent retirees, frustrated employees, and would-be entrepreneurs, in short, anyone who is thinking about striking out on their own.
Entrepreneurship: Is It for Me? airs Tuesday, November 3. It uncovers the personal characteristics needed for entrepreneurial success, and shows participants how to maximize their abilities. Students also learn how to fortify themselves for the hard work of starting up a business. Knowing what to expect improves the chance for success.
Developing an Idea for Startup Business, airs November 10th, and is aimed at those those who don't have an specific idea for "their" business but know they want to start something. The webinar takes these aspiring entrepreneurs through the process of developing a concept they can be passionate about.
Do Startups Need a Business Plan? airs November 17. Participants will learn why they need a business plan; where to find the information needed; and how to do one.
Without leaving their homes or offices, participants in the webinars will be able to access plenty of important information and have their own questions answered by an expert in start-up businesses.
"Learning how to start, grow and expand a small business is a life-long process, as successful entrepreneurs know," Stengel stated. "Online learning is an increasingly popular way to participate in that process and to acquire practical skills."
To learn more about or register for the webinars, visit http://ventureneer.com.
About Geri Stengel
Geri is founder of Ventureneer, an online education and peer support service. An adjunct professor at The New School, she honed her online experience at companies like Dow Jones and Physicians' Online. Geri co-founded the Women's Leadership exchange and is president of Stengel Solutions, a strategic planning and marketing consultancy.
About Ventureneer
Ventureneer.com provides small business advice and education, and nonprofit training and insights using a new approach to learning: a blend of traditional, formal instruction with informal, peer learning using Web 2.0 technology to capture and share knowledge. Ventureneer's customized blogs, virtual classes, peer-to-peer learning, coaching, web events and articles help entrepreneurs make faster, better decisions for their enterprises.
###