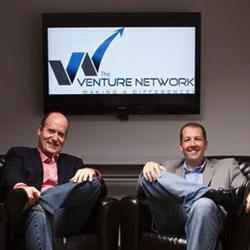 "This is where networking is going. It's the leading edge in networking!" – Clift Richards, CPA, Tulsa, OK
Tulsa, Oklahoma (PRWEB) February 14, 2012
Two local entrepreneurs are hoping to help business owners prosper in this economic downturn. Nathan R. Mitchell (MBA, CPC) and Michael D. Butler have started The Venture Network, a business networking referral community that helps its members gain new business through referrals, both online and in person.
"It's a proven fact that people do business with those they know, like and trust. The Venture Network gives consumers and business owners in a specific geographic location referrals based on needed products and services," says Serial Entrepreneur Michael D. Butler.
Nathan R. Mitchell teams up with Michael D. Butler, founder of M3 New Media, a Tulsa-based Digital PR Firm. "Consumers are suspect of new businesses and they need a place to find Businesses, Contractors and Service providers they can hire based on peer-reviewed recommendations," says Mitchell.
Nathan R. Mitchell, Founder of Clutch Consulting LLC, is a Business Consultant, Author, and Motivational Speaker. He has worked with a Fortune 50 company for more than a decade, and is now focused on helping Business Owners and Entrepreneurs become more efficient and more profitable, while benefiting from referral marketing. Most recently, he has been on a speaking tour with his Brian Tracy endorsed book "Give me the Ball-Winning the Game of Entrepreneurship."
The Venture Network hosts monthly meet-ups for business owners who participate in the organization at a Basic or Platinum level. Group members receive the benefits of networking face-to-face, participating with members globally in 24/7 online networking, and business development through Master-Mind groups.
"Networking for business referrals is not new," says Butler. "In fact, it has been around for centuries; but now, more than ever, because of the Internet and Social Media, we have a Perfect Storm for some real 'win-win's' in Oklahoma and beyond."
The Venture Network is located in the Impact Office Building at 3939 S. Harvard Suite 175 and has received calls from numerous states and cities inquiring about launching a Network in their area. Butler and Mitchell have recently traveled to Los Angeles and to meet with Venture Partners who understand the importance and significance of bringing businesses together; businesses such as: IT Consultants, Contractors, Realtors, Insurance Representatives, Tax Professionals, Legal Attorneys, Chiropractors, Bankers and Mortgage Professionals.
To inquire about a Network starting soon in your area, to inquire about spear-heading a Network or for media interviews contact:
Contacts:
Michael D. Butler, Sr. & Nathan R Mitchell (MBA, CPC)
The Venture Network
3939 S. Harvard Ave. Suite #175
Tulsa, OK 74135
####