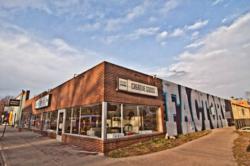 It's much more dynamic for your guests, to host an event in a space that has a story to tell, as opposed to a boring ballroom with no unique character and zero connection to the local community.
Denver, CO (PRWEB) August 30, 2012
FACTORY|made, a creative collaborative studio and retail showroom opened just six months ago, but it's already offering the Boulder community a great venue for much needed inspiration and celebration.
Libby Bryant, founder of Denver based, Venue Please, an online venue resource for independent and unique event spaces in Colorado, recently discovered FACTORY|made while in Boulder attending a women's startup business group meeting in the space. "It was refreshing to see such a stylish space with an inspiring concept full of life and energy," said Bryant.
"I knew from the moment I saw the industrial brick exterior with graphic signage and the mix of modern and vintage pieces, that it would be a fun environment."
In addition to the daily activities and regular events happening at FACTORY|made, the space is also available for private rental. Private workshops, launch parties, cocktail mixers and networking events are a few examples of the types of events people have hosted there.
Venue Please is proud to have partnered with FACTORY|made and is currently representing the creative lab in their online showcase which targets individuals and small businesses looking for unpredictable event spaces.
"It felt like a perfect fit because our values really align," Bryant says. "We are both working to tell the story behind something special and encourage the community to think out of the box."
In a time when there is an overwhelming trend toward local, handmade and recycled, FACTORY|made seems to be right on target with their style and mission.
The creative lab and those people involved with the project are passionate about representing products and people who have a story to tell. They aim to help tell those unique stories through their curated collection of goods for sale and on display in the showroom.
"It's much more dynamic for your guests, to host an event in a space that has a story to tell, as opposed to a boring ballroom with no unique character and zero connection to the local community," says Bryant.
The rear-of-house studio space ("FACTORY") offers creative classes for adults, as well as, children and teens in all things DIY. The class offerings are always changing but have included modern quilting, screen-printing, fly-tying, terrarium making, among other things.
The front-of-house retail showroom ("made") features everything from local artists' and designer's works, one-of-a-kind installations, vintage furniture pieces, locally made children's wares, and organic skincare.
Much of what FACTORY|made has to offer is the energy and vibe of the space with something new and fresh always happening. There are always artists working on projects and a lot of effort is put into thinking out of the box and inspiring new ideas with regard to how the space is used.
At any given point there is an invitation to the public for something new happening in the space. With figure drawing nights, art premiers, cocktail parties, indoor farmers markets, pop-up shops, and a fully equipped studio workspace, there is something everyone can enjoy.
FACTORY|made can accommodate private parties up to 200 people and fees are very reasonably priced and based on an hourly rate.
For more information on private rental and to contact Leah Brenner, Events Manager, see FACTORY|made's rental profile on Venue Please.
About Venue Please:
Venue Please in an online venue resource that works to expose individuals and small businesses to the idea of hosting private events in unconventional spaces, such as galleries, private residences and historic spaces. According to the company's founder, Libby Bryant, creative, historic and multi-purpose spaces with a story to tell, offer inspiration and entertainment to guests, as well as, benefiting local business and the community.
Contact:
Libby Bryant, Founder & Editor-inChief
Venue Please, LLC.
720-708-5164
http://www.venueplease.com