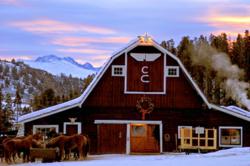 Snowy C Lazy U Ranch is the perfect venue for a family looking to getaway this holiday season.
Denver, CO (PRWEB) September 19, 2012
It's the middle of September, which means fall foliage, football and the holiday season is just around the corner. For those people and companies hosting a holiday party this winter the daunting task of finding a venue and planning the event is now here.
To take some of the pressure off, Libby Bryant, Founder of Venue Please, an online venue finder that helps people source unique venues for private events, shares a few of her top venue picks and ideas for festive holiday parties in Colorado this winter.
Family Holiday Getaway
C Lazy U Ranch, Granby CO
For those who just can't bear the thought of decorating, cleaning and cooking for your whole family this holiday season, then why not crash someone else's party?
This Thanksgiving and Christmas the owners of C Lazy U are opening up their ranch to celebrate the holidays with their guests. Enjoy horseback riding, skiing, ice-skating, sleigh rides and more with your family at this beautiful historic Colorado Dude Ranch.
Small Company or Club Holiday Party
The Briarwood Inn, Golden CO
Many small businesses and clubs just don't have enough people to demand renting a venue and hiring a caterer. If you're looking for an intimate and cozy holiday party venue with a festive ambiance and award-winning food, check out The Briarwood Inn in Golden, CO.
It's the perfect place for a small cocktail party in the lounge or an elegant dinner party in the dining room. The European antiques, warm copper fireplace and traditional holiday decorations will surely put you in the spirit.
Holiday Shopping Party
FACTORY|made, Boulder CO
The holidays are a busy time with parties, luncheons, shopping and more. This season consider hosting a holiday shopping event at FACTORY|made and get it all done at once.
FACTORY|made is a creative lab and retail venue that supports local artists, sustainable practices and all things DIY. The shop is full of unique fashions, cosmetics, furnishings and artwork from local designers. In addition, the creative lab will also be offering gift making workshops throughout the season.
Private New Year's Eve Bash
Clock Tower Events, Denver CO
Host the most unforgettable New Year's Eve party ever at Clock Tower Events that guest will be talking about for years. There simply isn't a more ideal venue in Denver than this this historic building and breathtaking space in the middle of the city.
Ring in the New Year while sipping champagne and counting down the minutes behind the biggest clock tower face in Denver. Then if that isn't enough, head up to the next level and take in the fireworks celebration over the city from the upper floor balconies. It's a once in a lifetime experience.
For more information on any of these venues or to see more venues that Libby recommends check out her company's unique venue showcase. You can follow her on twitter at @VenuePlease
About Venue Please:
Venue Please in an online venue resource that works to expose individuals and small businesses to the idea of hosting private events in unconventional spaces, such as galleries, private residences and historic spaces. According to the company's founder, Libby Bryant, creative, historic and multi-purpose spaces with a story to tell, offer inspiration and entertainment to guests, as well as, benefiting local business and the community.
Contact:
Libby Bryant, Founder & Editor-in-Chief
Venue Please, LLC.
720-708-5164
http://venueplease.com