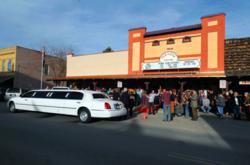 The climate for events is changing. Brides are thinking out of the box and not all of them want a traditional ballroom. Many prefer an intimate backyard, a historic theatre or a stylish parking garage...
Denver, CO (PRWEB) July 12, 2012
Anyone who has ever hosted or planned an event knows that venue selection is the first step to creating an event with personality that your guests will never forget. Libby Anderson, an Event Designer and Paul Bryant, an Architect are passionate about memorable spaces that evoke feelings. When it came time for them to find a wedding venue in Colorado that reflected their personalities they quickly learned that it was no easy task.
"We wanted a reception site close to the church that reflected the culture and natural surroundings of North Boulder. It was the biggest headache. I spent so much time looking up and contacting farms, equestrian centers and private properties in an attempt to find the right fit. It would have saved a lot of time and frustration if there had been a better research tool. All I wanted was a searchable website for independent, unpredictable and hard to find event spaces. But there wasn't."
What the couple found was online venue search tools that catered mainly to established event facilities with big marketing budgets, which was the opposite of what they were going for.
"We didn't want a generic ballroom space, so those tools didn't work for us," says Bryant. "A cookie-cutter venue would have never met our standards and reflected our personalities. We were looking for something more special."
So they set out to solve their problem. While planning their wedding they have also been developing the venue resource they wish they had. Last month they launched Venue Please and now they are working hard to populate it with memorable event spaces.
Venue Please is supporting the growing trend of individuals, small businesses and non-profits that are taking advantage of their real estate and making it work for them in the event arena.
"The light bulb moment for Venue Please was actually when a friend suggested that I look into renting a house in her neighborhood that had been for sale for a long time. They had been renting out the property for private parties until they could sell it. I thought it was genius and I wondered how many other individuals and small businesses could take advantage of that concept?" says Anderson.
The good news is that for the people taking the chance and renting out their facility or property, it seems to be working and both parties are benefiting. Todd Droy, the owner of Wash Park Studio, a photography studio in Denver recently started to promote his loft-like space for private rental. He's going into his first summer and is booked almost every Saturday through the season and recently just landed a three-day corporate rental.
"We are very pleased with the number of booking for 2012 and 2013. Our Saturdays are about 80% booked through Fall 2012," Droy said when speaking about his recent business venture.
The overall shift from big box consumerism to local and handcrafted is spreading outside of just farmers markets and local boutiques and is starting to affect the event industry, as well.
Anderson points out, "The climate for events is changing. Brides are thinking out of the box and not all of them want a traditional wedding in a ballroom. They are looking more towards something that suits their personality such as an intimate backyard, a historic theatre or a stylish parking garage like Miami Beach's 1111 Lincoln Road."
Websites like Offbeat Bride, which brands themselves as "Creative Alternatives for Independent Brides" gets over 2.2 million page views a month is further proof of this trend. Weddings aren't the only place the shift is happening. Progressive companies are re-thinking how to reward top clients and employees through special events and corporate retreats.
"What once might have been deemed a 'wedding venue' or a 'meeting venue' has been turned upside down. People are thinking out of the box and exercising their creativity when it comes to what events should be. We want to encourage that creative thinking and make it easier for people," says Anderson.
Currently Venue Please showcases a little over 50 event spaces in Colorado. "We want to build the largest showcase of memorable and independent event spaces in the U.S." Anderson says.
Venues interested in joining the search tool must submit their information for approval. Once the venue is approved, a subscription is required to publish the listing and become part of the showcase. Subscription costs are well below that of their competitors starting at just $350 a year.
"We've had people tell us that it costs up to $10,000 annually to effectively be promoted on sites like The Knot and Wedding Wire. That's just ridiculous. Small independent companies and non-profits can't afford that, therefore wonderful spaces get left behind and often go unnoticed," says Anderson.
According to Bobbi Walker, the owner of Walker Fine Art, a sophisticated modern gallery in downtown Denver, private event rental is what has kept her in business through the tough times and has allowed her to be approaching her 10 year anniversary.
"We could never ask someone like Bobbi to pay a large subscription cost. It would be taking away from the fundamental reason why she rents her space out to begin with. The moment small galleries can't afford our services, is the moment we are no longer relevant," says Anderson.
Venue Please is free and does not require an account for anyone searching for a unique one-of-a-kind event space.