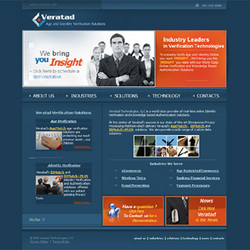 Red Flag Rules Identity Theft Prevention Program
Englewood, NJ (PRWEB) June 19, 2008
Veratad Technologies, LLC, a world class provider of Age and Identity Verification Solutions announced today that its IDMatch and IDMatch+PLUS Identity Verification Solutions will now be offered to assist businesses to comply with Section 114 and 315 of the upcoming 2008 Red Flag Regulations under the Fair and Accurate Credit Transactions Act of 2003 (FACTA).
"Red Flag Rules apply to financial institutions and creditors such as banks, credit unions, auto dealers, mortgage brokers, utility companies and telecommunications companies" says Pattie Dillon, President of Veratad. Ms. Dillon notes that those covered by the Act have until November 2008 to come into full compliance or be subject to penalties.
Veratad's flagship products "IDMatch" and "IDMatch+PLUS" include unique and innovative features that provide a balance between protecting businesses against fraud while protecting sensitive personal data and promoting a high level of consumer privacy.
The strength of Veratad's products begin with unique data element sets used in the verification process and are enhanced by a proprietary rules-based application.
"Our solutions are ideal for meeting the identity verification and address discrepancy requirements of Section 114 and 315 of the FACT Act. The applications provide an easily deployable solution with different levels of authenticating identities, so that users can better manage their risk" said Dillon.
Veratad's verification applications are accessible through a web interface, batch process or the service can be integrated into existing web sites to assist users in creating a strong "Red Flag Rules Identity Theft Prevention Program" that is compliant with Section 114 and 315 of FACTA.
Contact:
Veratad Technologies, LLC
Englewood, New Jersey
P: 201-510-6000 ext 141
F: 201-510-6036
info @ veratad.com
About Veratad Technologies, LLC
Veratad Technologies, LLC ( http://www.Veratad.com ) is a world class provider of real-time online Identity Verification and Knowledge Based Authentication Solutions designed to verify an individuals identity and age while maintaining a high level of consumer privacy.
At the center of Veratad's success is a state-of-the-art privacy processing platform which delivers Veratad's AgeMatch/Age Verification Solution, IDMatch/Identity Verification solution and IDMatch+Plus/Knowledge Based Identity Authentication Solution. Veratad also offers a patent pending solution that protects sensitive customer information while offering merchants increased online sales by enhancing customer confidence. Veratad verifications can be delivered in a matter of seconds directly through multiple verification platforms to commerce, financial and government institutions. Veratad also provides a wide range of custom data solutions. For more information contact info @ veratad.com .
Forward-Looking Statements
In addition to the historical information contained herein, this press release contains forward -looking statements, such as statements regarding the Company's, and the combined companies', anticipated future performance, including the ability of the combined companies to expand verification and e-commerce capabilities; to increase product offerings and the size of the distribution channel; as well as statements containing the words, "believes," "intends,", and similar words. Such forward-looking statements involve known and unknown risks, uncertainties and other factors which may cause the actual results, performance or achievements of the Company, or industry results, to differ materially from any future results, performance or achievements expressed or implied by such forward-looking statements. Such factors include, among others: the Company's limited operating history and variability of operating results; competition in the electronic verification and commerce market; the ability of the combined companies to successfully offer the market expanded verification and privacy tools and e-commerce capabilities and services and the market's acceptance of such offerings, and other risk factors referenced in this release.
###