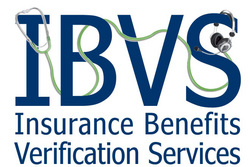 I believe that many doctors underestimate the impact proper verifications have on their bottom line, possibly because it is very difficult to measure
Houston, TX (PRWEB) June 17, 2008
IBVServices launches on-line insurance benefits verification service to fill market void. The company's goal is to improve a dental and specialty medical practitioner's two primary administrative concerns: Office efficiency and prompt payment of claims. IBVServices relieves some of the administrative burden providing an excellent insurance verification service allowing staff to be much more efficient doing tasks directly related to patient care. More information can be found on their website WeVerify4u.com.
The standard procedure used for many years for verifying insurance benefits has been the responsibility of a staff member, by making a phone call to the insurance company, a practice that remains for the most part unchanged. The growth and accessibility of the internet has allowed most insurance companies to offer access to doctors' offices to conduct verifications on-line but many insurance companies still don't.
There are other ways insurance benefits verifications are conducted. Some companies specialize in compiling data from different plans and make them available via CD or on-line. Other companies specializing in medical and dental office software bundles insurance benefit information service access within the software as a value-added benefit.
However, since the verification process is an integral part of the claim payment, because its accuracy determines the promptness of payment, up to date information is critical. IBVServices' Founder and President, Santiago La Rotta states, "There is nothing more accurate and up to date than a live, personal phone call to the insurance company." His opinion is shared by Samuel A. Collins in his article, "Insurance Verification: Good for the Doctor, Good for the Patient" published in Acupuncture Today Feb, 2007, Vol. 8, Issue 2 in which he states, "Insurance verification still is best done over the phone, as it allows greater inquiry as to the specifics of coverage. Under the guidance of HIPAA regulations,insurance verification can be done electronically (online); however, although this resource is fast, it only gives very basic and limited information of the policy, while phone inquiries offer much more latitude and specificity of questions."
In this new age of multi-tasking, many practitioners resist outsourcing their verification process by simply assuming that their staff can do it. In fact in many cases, there are so many things to do in the office that mistakes are made. "Outsourcing our dental verifications to IBVServices has allowed our office to become more efficient, especially in the area of patient care," points out Carol Jaramillo, Office Manager with Dental Innovations in Houston, Texas. Also, it is important to note that other factors such as the number of insurance companies, different plans available, and employee turnover add to confusion and often to mistakes that have a detrimental effect on the ability to receive payments promptly from the insurance company.
"I believe that many doctors underestimate the impact proper verifications have on their bottom line, possibly because it is very difficult to measure," says La Rotta. With IBVServices it is possible to know exactly what expense percentage verifications are contributing to the total cost of the operation.
IBVServices in their HIPPA compliant website provides three different plans to meet the budget needs of small, medium and large offices for dental, chhiropractic and medical verifications. They also offer a convinient, Risk-Free Trial to experience their service. More Information can be found at IBVServices FREE TRIAL
###