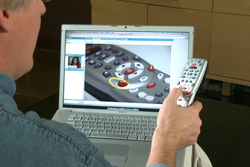 VeriShow literally opens a new window for online companies to communicate with their customers "live." VeriShow can reduce overhead, increase efficiency through immediate customer service, and increase sales due to the ability to establish relationships.
Farmington, MI (PRWEB) February 17, 2010
A new interactive multi-media platform that allows live interaction between website representatives and website visitors has been released by HBR Labs, Inc. VeriShow is an add-on collaboration tool that allows customer service representatives to engage with customers in real time, just as if they were speaking face to face. The tool is web-based, does not require software installation, and is easy to add onto any website.
VeriShow is a leading collaborative platform designed specifically to help small to mid-sized businesses including e-commerce and e-services provide a higher level of customer support. VeriShow provides opportunity for online companies to build stronger relationships with their customers, explain, demonstrate or suggest products, provide online training, share images and videos, work together on documents, interact through drawing tools, and more, all incorporating chat, voice and video conferencing tools. Live web meetings through VeriShow provide instant feedback and information to customers, thus helping e-commerce companies increase sales conversion rates, time efficiency and cost savings.
Setup of VeriShow is accomplished through registering for a free account at verishow.com and embedding a website link that site visitors can click on to initiate the session. VeriShow is a Software as a Service (SaaS) application in which users do not have to purchase software, thus avoiding software installation, download and maintenance requirements. "The Verishow platform is very easy and simple to use," says Yuval Moed, CEO of HBR Labs, Inc. "It allows more effective interaction than the commonly used live support chat service." VeriShow is accompanied by comprehensive online user guides and online help tools.
According to Moed, one of the most helpful results of using VeriShow is that customers spend more time on a website. "With today's competitive online environment and so many distractions requiring customers' attention, the longer a customer stays on a website, the more likely a sale becomes," he says. "VeriShow helps companies increase sales and become more efficient. It allows sales reps to engage customers immediately, build confidence and loyalty, and therefore increases 'site stickiness' and ultimately, conversion rate."
The VeriShow tool is currently available free of charge, allowing e-commerce companies to fully test the platform's features and benefits.
VeriShow Product Features:

No Installation Or Maintenance: VeriShow requires no configuration or maintenance by technical personnel, and no purchase, download or installation by site visitors.
Easy Integration: VeriShow can be quickly and easily integrated into existing website.
Live Text, Voice And Video Chat: VeriShow includes capability for real-time communication using text, voice and video.
Interactive Whiteboard And Extensive Drawing Tools: VeriShow allows session participants to view shared material simultaneously.
Extensive File Format Support: VeriShow enables site visitors and site personnel to upload, share and annotate simultaneously a wide range of industry-standard document types including Microsoft Word, Microsoft PowerPoint, Adobe PDF and text files; as well as JPEG images, 3D illustrations, images and video clips. All file formats can be worked on collaboratively in real-time.
Co-Edit Microsoft Word and Text Documents: VeriShow session participants can work together on Microsoft Word and text documents utilizing a collaborative text editor.
Automatic Text Chat Translation: VeriShow provides multi-lingual online text chat via a real-time translator.
Collaboratively Complete Forms: VeriShow enables website visitors to work together with websites' sales and support personnel to complete online forms and applications.
View and Annotate Google Maps and YouTube Video Clips: VeriShow session participants can upload and simultaneously view Google Maps and YouTube video clips.
Second Camera Input: VeriShow allows website representatives to attach a second camera source (stills or video), which they can utilize to demonstrate products, highlight features, and display 3D objects in real-time.
Centralized Document Storage: VeriShow provides personalized online document storage on secure servers.
To watch the VeriShow product demonstration video, visit YouTube.com
To read about VeriShow product benefits and begin implementation, visit verishow.com, or contact HBR Labs at info(at)hbrlabs(dot)com.
Links:
VeriShow: verishow.com
HBR Labs, Inc.: hbrlabs.com
Product Demonstration Video: youtube.com
ABOUT VERISHOW:
VeriShow is an advanced add-on provided by HBR Labs, Inc. that enables website owners to easily integrate text, voice and video communication as well as document sharing and collaborative working functionality into their websites to assist in sales, reduced overhead and increased efficiency through live, real time interaction. HBR Labs was founded by an experienced Internet and eCommerce team in January 2007 to develop and market easy-to-use, intuitive and affordable web-based solutions that help companies and individuals to communicate and collaborate more effectively.
###