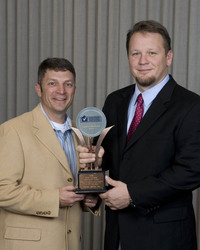 Our goal is to meet our client's high expectations by building homes that display quality, dependability and family growth
Atlanta, GA (Vocus) March 4, 2009
Georgia based home builder, Veritas Homes, recently received the Certified Professional Home Builder (CPHB) Customer Satisfaction Award at the annual Installation and Awards Banquet of the Greater Atlanta Home Builders Association on Jan. 15, 2009. Winners of the CPHB Customer Satisfaction Award received 100 percent recommendation rates from their home buyers, indicating that they would recommend this builder to a friend or family member 100 percent of the time. Veritas Homes has new home communities in Buford, Lawrenceville and Sugar Hill.
"Our goal is to meet our client's high expectations by building homes that display quality, dependability and family growth," said John Gatlin, President of Veritas Homes. "To have our customers say that they would recommend us to their family and friends 100 percent of the time is a huge honor and a testament to the passion and dedication we have for every home that we build."
The CPHB Customer Satisfaction award is based on an index score made up of a builder's ranking in nine satisfaction categories. Customers of the builder are surveyed and asked to rank the builder in the different categories: professionalism, scheduling, construction quality, communication, problem resolution, employee and trade contractor, punch list, easier than expected and recommendation rating. The combined index score represents the builder's overall customer satisfaction rating, and in order to be the recipient of the CPHB Customer Satisfaction Award, the builder must have the highest index score in their category.
Georgia-based Veritas Homes is a family owned company founded on family and Christian morals. The knowledgeable staff at Veritas Homes averages over 20 years experience in the home building industry. Veritas Homes has four outstanding subdivisions destined to be reputable, quality living areas: Sycamore Glen, Lynnfield Park, Creekside at Pinecrest and Sandy Creek. The goal at Veritas Homes is to provide quality homes that will facilitate their client's needs, making their dreams come true. For more information on Veritas Homes, call 770-614-4698 or visit http://www.veritashomes.net.
Media Contact:
Flammer Relations, Inc.
Amanda Winters
770-383-3360 x27
# # #