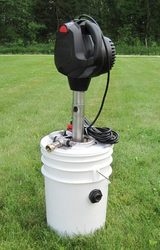 The difference between us and everybody else is the results in the field.
Bluffton, IN (PRWEB) July 27, 2010
Sunny Ridge Microbial Solutions (SRMS) announces the launch of http://www.compostteasystems.com, including a Learning Center that teaches farmers and gardeners how to get outstanding and almost unbelievable results without the use of chemical fertilizers. At the root of our solution lies the Red Worm and the castings of this amazing worm.
SRMS is dedicated to helping anyone who grows plants in soil. Whether you're a homeowner looking to grow more and bigger blooms, a family gardener raising quality food for your family, a lawn care professional working to produce lush green grass, a produce farmer looking to increase yields, a dairy farmer raising forage for the herd, or a large-scale farmer managing thousands of acres each year—let the worm revolutionize your efforts.
SRMS offers high quality vermicompost and worm castings for tilling into the soil or applying around plants. Their revolutionary line of vermicompost extractors turn vermicompost into a compost tea extract for foliar feeding.
While the production and use of compost tea brew is becoming quite popular, the extraction process produces a higher quality solution and offers three outstanding benefits over the brew.
First, compost tea brew tends to be microbially imbalanced. Extract from a Sunny Ridge Vermicompost Extractor contains the exact diversity of the compost used to make the extract. Second, it takes brew makers 24 hours to produce a batch of tea. Extract is made immediately and flows through the machine continuously, up to 1,000 gallons per hour. Third, compost tea brew must be used within 6 hours, or it will begin to die. Extract made with a Sunny Ridge Vermicompost Extractor remains alive and effective for two weeks or longer.
Besides the exciting and revolutionary advancements that SRMS has made in the compost tea extracting process, they have experimented with adding other ingredients to their compost tea and discovered incredible results.
"The difference between us and everybody else is the results in the field," says Mark of SRMS. There is more to crops than what meets the eye. SRMS is helping farmers grow a higher quality crop that feeds more and produces more milk production. Even when tests show similar feed values, crops fed the natural way with vermicompost will produce more milk than those raised with synthetic fertilizers. Besides SRMS has helped farmers reduce mineral costs by 33%, more than covering the cost of the worm's help.
The foundation of these discoveries and results is the Red Wiggler composting worm. And best of all, it is completely natural and beneficial to the environment. While chemical fertilizer is damaging and destroying the environment, the worm is quietly restoring. SRMS provides a refreshing solution to those who know there is a better way to get outstanding results.
Sunny Ridge Microbial Solutions encourages all farmers and gardeners to visit their website and learn how to increase their yields and the quality of their crops the natural way without damaging chemicals. Choose the worm and revolutionize your farming and gardening today.
###