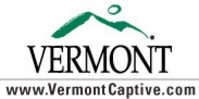 At a time when many of our domestic competitors are reducing their resources towards captives, Vermont is making more of an investment to grow this valuable industry
Montpelier, Vermont (PRWEB) January 24, 2009
The State of Vermont licensed 16 new captive insurance companies in 2008, according to data released by the Vermont Department of Banking, Insurance, Securities and Health Care Administration (BISHCA).
While this was only half of the number of new captives licensed in 2007, officials said the state would not curb its activities but would instead continue to aggressively invest in growing the captive insurance sector in Vermont.
"2008 was a slower year for captive growth due to economic conditions," said David Provost, Vermont's Deputy Commissioner of Captive Insurance. "We continue to see interest in forming quality captives with activity across all lines of business."
The new captives formed include 11 pure captives, 2 special purpose financial captives (SPFC), one new risk retention group, one sponsored captive and one branch captives, bringing the total number of licenses issued in Vermont to 839.
Some of the companies in the class of 2008 include: Microsoft, Wells Fargo, Boston Properties, Swiss Re, Thermo Fisher Scientific, Darden Restaurants and Winthrop - University Hospital.
According to Vermont officials, the soft market, the uncertainty created by the formerly proposed IRS regulations and the current economic conditions were the drivers that slowed formations in 2008.
But the state is continuing its promotion of and innovation in the captive industry, proposing several new initiatives including:

A Premium Tax Holiday ($7,500 reduction in premium tax for captives licensed in 2009 and 2010);
Increasing the special funds budget to support captives by devoting a higher percentage of the premium tax collected to the fund;
Several technical amendments that affect sponsored captives, letters of credit and accounting standards.
"We will continue to take steps to maintain our reputation as the gold standard of domiciles," said Governor Jim Douglas. "Even during these tough economic times Vermont recognizes the importance of the captive insurance industry to our state and the need to continue investing in our infrastructure and innovating in our regulation."
During these challenging economic times, Vermont has continued its nearly 30-year history of investment in the captive insurance industry.
"At a time when many of our domestic competitors are reducing their resources towards captives, Vermont is making more of an investment to grow this valuable industry," said Dan Towle, Director of Financial Services for the State of Vermont.
Interest has continued in healthcare facility captives. Vermont has nearly 100 captives writing over $1 billion in premiums in medical malpractice coverage. Interest in smaller companies forming captives has also continued. "Nearly half of our captives in Vermont write $5 million or less annually in gross written premium and half of those write $1 million or less," said Towle. This trend opens the doors for smaller companies looking to take advantage of the captive insurance option.
Vermont is the largest captive insurance domicile in the U.S. and second largest in the world in terms of gross written premium, with $15.2 billion in 2007. Vermont is the domiciliary state to 44 of the companies that make up the Fortune 100 and 21 of the companies that make up the Dow 30.
According to a 2003 Economic Impact study, the captive industry creates 1,429 direct and indirect jobs, including full and part-time jobs, with an average salary for full time workers of $52,200 (63% higher than average Vermont private-sector, non-farm wages for the same time period), and captive insurers held over $1.2 billion in funds in Vermont banks and financial companies.
In 2007, the last year for which data is available, the State of Vermont collected premium taxes of $24.2 million and license and exam fees of $2 million from the industry.
For more information on Vermont's captive industry, please visit http://www.VermontCaptive.com or contact Dan Towle at (802) 828-5232.
The Department of Economic Development operates within the Agency of Commerce and Community Development, whose mission is to Help Vermonters Improve Their Quality of Life and Build Strong Communities.
###