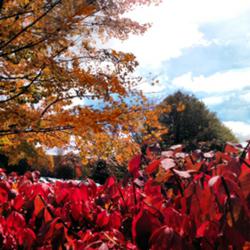 Foliage is rapidly approaching brilliant.
Montpelier, VT (PRWEB) October 02, 2012
Listen to the Foliage Report (1 min) and review the Interactive Foliage Map
Best Bets: This week, Vermont State Foresters and the New England Maple Museum suggest touring higher elevations and wetlands around lakes and ponds. Full Color (90-10%) and Near-Peak (60-80%) routes include:

Camp Brook Road and Bethel Mountain Road in Rochester. Full Color (90-100%).
Roxbury Mountain Road and East Warren Road in the Mad River Valley. Full Color (90-100%).
Route 125 from Hancock west over Middlebury Gap to East Middlebury.
-Route 73 west from Rochester over Brandon Gap to Sudbury.

Route 4 from West Bridgewater to Killington over Sherburne Pass west to Rutland.
Route 100 in south-central Vermont.
Darling Hill Road in Lyndon-Burke
Newark Pond loop roads
"Foliage is rapidly approaching brilliant! The four Newark Ponds (Newark, Bald Hill, Jobs and Center) are spectacular with both brilliance of shoreline red maples and sweeping views of the mountains," Caledonia and Essex Counties Forester Matt Langlais reports. "It's a great chance to grab the fishing pole and canoe, and take it all in."
"Soft maples in wetlands and marshy areas are showing bright red colors as are roadside sumacs," Tom Olson of the New England Maple Museum notes. "Many of the higher elevations will be peaking on or before this weekend."
Stay Tuned: Mid Stage (25 -50 %) foliage routes include:

Route 100 south from Warren to Killington.
Route 103 north from Ludlow to Route 7.
Route 7 north from Manchester to Brandon.
Route 9 from Woodford to Marlboro.
Route 15 from Danville to Jericho.
Route 2 from St. Johnsbury to Richmond.
Route 232 through Groton State Forest.
Back roads in Walden, Cabot, Hardwick, Greensboro.
Route 53 north from Forestdale to Route 30 in Whiting.
Route 35 in Grafton.
Recommended Hikes, Walks, Rides and Swings:

Falls of Lana in Salisbury
Spruce Mountain in Plainfield
Mount Abraham in Warren
Camel's Hump in Duxbury
Mount Hunger in Waterbury Center
"I got out for a mountain bike ride at Kingdom Trails in East Burke...it doesn't get any better. The rolling trails provide countless opportunities for the autumn experience as they wind though maple forests and over hilltop fields," reports Caledonia and Essex Counties Forester Matt Langlais.
"Take a stroll through some of our town greens and through the villages. You'll surely find a coffee shop where you can have a seat and relax," Jon Bouton, Windsor County Forester suggests.
"If you are a golfer, don't miss a round at Country Club of Barre in Plainfield or Northfield Country Club on Rte 12A in Northfield," adds Washington County Forester Russ Barrett.
Visit http://www.vermontvacation.com/fall to plan Vermont Fall Foliage travel. Helpful tools include:
Leaf-peepers can also easily stay up-to-date on the color progression of Vermont's foliage by calling the Fall Foliage Hotline at 1-800-VERMONT.