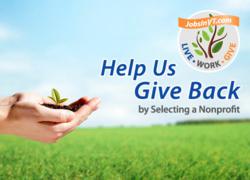 Congratulations to JobsInVT.com for providing a solid service to local job seekers and employers throughout Vermont and to our organization for the past 10 years
Burlington, Vermont (PRWEB) February 28, 2013
VERMONT - In celebration of 10 years of connecting Vermont employers with Vermont job seekers, JobsInVT.com, Vermont's #1 employment resource, kicks off JobsInVT.com: Live Work Give, a year of celebration events – including a contest that gives back to the community with JobsInVT.com making donations to 10 Vermont nonprofits on behalf of Vermont job seekers and Vermont employers.
On a quarterly basis, between April 2013 and February 2014, the contest awards a Vermont employee the right to choose a favorite Vermont nonprofit. A company may have multiple employees entering the contest, but only one employer entry will be chosen per drawing. JobsInVT.com will then donate $500 to that selected Vermont charity in the company's name.
Likewise, each quarter, the contest will award a Vermont job seeker the right to choose a favorite Vermont nonprofit. JobsInVT.com will then donate $500 to that Vermont charity on behalf of that individual.
At the end of the contest, in February 2014, JobsInVT.com will pick a final job seeker and a final employer; and the prize money for each nonprofit chosen will be a $1,000 donation from JobsInVT.com.
The 10 nonprofits that are chosen, along with the 10 randomly drawn contestants who select them, will be featured on JobsInVT.com throughout the year.
"Congratulations to JobsInVT.com for providing a solid service to local job seekers and employers throughout Vermont and to our organization for the past 10 years," said Susan Loynd, Director of Human Resources for Washington County Mental Health and the current Vermont State Council Director for the Society of Human Resource Management (SHRM). "The JobsInVT.com: Live Work Give celebration will highlight our employment community and, in particular, our nonprofits, an important part of the Vermont economy."
About JobsInVT
JobsInVT.com, Vermont's #1 employment resource, has been connecting job seekers and employers to fill real, local, quality jobs within the state of Vermont since February 2003. What initially began as a free service to employers, JobsInVT.com built a steady flow of job seeker traffic and today sees over 34,000 unique visitors per month, over 1,000 real, local Vermont jobs and 572 Vermont company profiles on their website.
Employers who wish to post an unlimited number of jobs can do so by subscribing to the service for a flat fee, and non-profits who wish to post their volunteer positions and a company profile can do so for free. JobsInVT.com works with every type of employer from all regions of the state who wish to post jobs located within Vermont.
For more information on JobsInVT.com's 10 Year Anniversary Celebration, the JobsInVT.com: Live Work Give campaign or JobsInVT.com in general, please contact Tom Hinman, Director of Sales and Marketing at 1-877-374-1088 x2073 or thinman(at)jobsintheus(dot)com.
-JobsInVT.com -