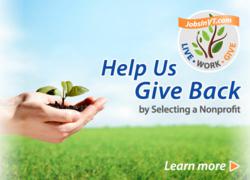 Each week, 8,200 Vermonters will request food assistance at food shelves, meals sites, senior centers, shelters, and after-school programs in Vermont
Burlington, VT (PRWEB) May 01, 2013
Phillip Brown at St. Johnsbury Health & Rehab made the Vermont Foodbank quite happy this month. His VT Live Work Give contest entry was randomly selected and he directed JobsInVT.com's $500 donation to Vermont's largest hunger relief organization.
"Each week, 8,200 Vermonters will request food assistance at food shelves, meals sites, senior centers, shelters, and after-school programs in Vermont," says Judy Sterner, Director of Communications and Public Affairs of Vermont Foodbank, who was thrilled to be selected and featured in the contest. "Every action, big or small, is important in the fight against hunger."
For every dollar donated to the Vermont Foodbank, $.92 goes directly to programing. For more information, please go to http://www.vtfoodbank.org.
Nan Bambara also made Green Mountain Academy for Lifelong Learning happy with a $500 donation from JobsInVT.com made in her name.
"I am thrilled to pick GMALL to receive a $500 donation from JobsInVT's Live, Work, Give 10 year Anniversary campaign," said Nan. "GMALL is one of our community resources that allows us to never stop learning. Their program offerings are interesting, intellectual, varied and, best of all, available to everyone."
The Green Mountain Academy for Lifelong Learning encourages intellectual enrichment and personal growth through courses and workshops in art, music, philosophy, theater, literature, history, cooking, bridge, photography and more. They provide accessible, diversified, and high quality educational programs to the public as a community service to all adults living in the Northshire region. For more information, please go to greenmtnacademy.org.
The VT Live Work Give campaign contest allows both individuals and employers to enter and, if chosen in a quarterly drawing, each of the two winners can select one Vermont nonprofit charity to be the recipient of a $500 donation from JobsInVT.com. Contestants can enter once at any time during the contest and will be considered for each drawing thereafter. At the end of the contest, in February 2014, JobsInVT.com will double their donations when they pick a final job seeker and a final employer to select the two final nonprofit recipients, and each nonprofit will receive a $1,000 donation. See contest rules for details.
About JobsInVT
JobsInVT.com, Vermont's #1 employment resource, has been connecting job seekers and employers to fill real, local, quality jobs within the state of Vermont since February 2003. What initially began as a free service to employers, JobsInVT.com built a steady flow of job seeker traffic and today sees over 34,000 unique visitors per month, lists more than 1,000 real, local Vermont jobs and hosts more than 500 Vermont company profiles on their website. Vermont Employers who wish to post an unlimited number of jobs can do so by subscribing to the service for a flat fee, and nonprofits who wish to post their volunteer positions and a company profile can do so for free. JobsInVT.com works with every type of employer from all regions of the state who wish to post jobs located within Vermont.
For more information on JobsInVT.com's 10 Year Anniversary Celebration, the VT: Live Work Give campaign or JobsInVT.com in general, please contact Tom Hinman, Director of Sales and Marketing at 1-877-374-1088 x2073 or thinman(at)jobsintheus(dot)com.
-JobsInVT.com -