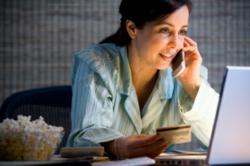 Miami Beach, FL (PRWEB) April 14, 2012
Merchant Data Systems is expanding it services to Vermont. Merchant Data Systems is a company who has been committed to offering businesses across the country the latest and greatest innovations in merchant accounts and payment gateways since 1997. Vermont businesses are soon going to become more familiar with the latest technology of digital marketing being introduced by the recent joint effort being made between Merchant Data Systems and the internet marketing services agency Karma Snack.
Most Vermont merchants have discovered and understand the importance of providing a terminal to accept credit cards from their potential customers. Without this capability, they would often lose business, as many people are turning to the sole use of credit cards. Credit cards offer easier tracking and can be cancelled in the event of loss or theft. What other credit card processing companies have yet to take into consideration is that technology is not stopping there.
Businesses are now faced with more choices than ever with the boom in online market place and new inventions and gadgets being output at a tremendous rate. With convenience an ever important factor to the global economy, new technology such as the capability of mobile credit card processing and online merchant accounts. Merchant Data Systems is now offering Vermont business this fast new mobile credit card processing.
Mobile credit processing helps businesses accept credit card payments on their mobile devices. This can prove beneficial in the event that a sale is made away from their physical business location or in the case that a physical location is non existent. For example, a small business that makes home deliveries may find it useful to employ the option of a mobile processor to take a quick payment on their cell phone from their customer right there with their customer after the delivery is made. This is different than a wireless option, this feature made conveniently available on the merchants mobile device is a step up from having to transport a wireless terminal. This is one example of how credit card machines are constantly developing and Merchant Data Systems is now helping Vermont business stay ahead of the curve.
For the business who has decided to offer their product online, their credit card merchant account will need to include an online option if they expect to see any sales as a result of their e-commerce efforts. A Credit card processing company such as Merchant Data Systems makes the process easy. Once in place, the online processor is self reliant. Never in the history of credit card processing has it been easier for the merchant to accept payments. With the online processor, the customer enters all of their credit card information, leaving the merchant not even having to so much as lift a finger!
The recent team-up between Merchant Data Systems and Karma Snack is sure to yield many advancements in credit card processing. These innovations will prove to make the process of accepting credit cards easier than ever for merchants around the world.