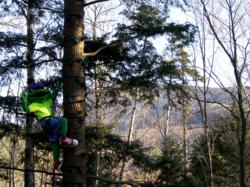 With the new eco-adventure park and climbing programs, ArborTrek has established a true "adventure hub" for our guests and area visitors
Smugglers' Notch, Vermont (PRWEB) May 03, 2013
ArborTrek Canopy Adventures at Smugglers' Notch, Vermont is expanding its services in the spring and summer of 2013. In addition to the established Zip Line Canopy Tour, which was named one of the "World's Coolest Zip Lines" by Travel + Leisure magazine and one of the best wilderness zip line tours in the U.S. by Outside Online's Adventure Adviser, ArborTrek is building two new aerial adventure courses in the form of a Treetop Obstacle Course and Tree Climbing Adventure. Both courses are scheduled to open by mid-June.
"The new Treetop Obstacle Course and Climbing Adventure are in sharp contrast to our Zip Line Canopy Tour which offers long gravity-fed traverses and requires little exertion by participants," explains ArborTrek Smugglers' Notch president Mike Smith. "The new courses are for participants who are seeking a physical challenge and are ready to work for their adventure."
The Treetop Obstacle Course will blend scenic views with more than 50 unique elements ranging from easy to extremely challenging. Employing new smart-belay technology that insures 100% connectivity to the overhead fall protection system, participants will have the opportunity to navigate from tree platform to tree platform by wobbly bridges, rope swings, cargo nets, balance beams, zip lines and more. A total of five course areas will be available for this summer, two of which will be appropriate for families with children as young as four years of age.
Participants on the new Climbing Adventure can test their daring and prowess scaling an artificial rock wall, a series of vertical challenge obstacles, or, for a more unique feat, attempt to summit one of the Notch's stately sugar maples or eastern hemlocks. Multiple routes ranging from easy to challenging will be available.
The new courses can be experienced as stand-alone conquests, or incorporated with each other, the Zip Line Canopy Tour, and the new youth or corporate team building programs debuting later this summer.
"The new courses are designed to diversify our product offerings. With the addition of the Treetop Obstacle Course and Climbing Adventures at Smugglers' Notch we can offer a full family of adventures ranging from extreme to serene," says Smith.
ArborTrek's established, award-winning Zip Line Canopy Tour consists of a series of 8 interconnected zip lines, 2 suspension bridges, and 2 rappels. "For those seeking big thrills and beautiful scenery with few physical demands, our Zip Line Canopy Tour is most appropriate," explains Smith. Knowledgeable, friendly guides accompany the zip line tours in small groups, providing entertaining and informative commentary about local flora, fauna, and the lore of Smugglers' Notch.
Experienced guides will also be on hand at the Treetop Obstacle Course and Climbing Adventures to monitor activity from below and provide helpful coaching and encouragement. These courses, according to Smith, are an excellent option for those who are looking for something more physically challenging and budget friendly. "The new elements offer great value at a great price," he says, "They provide a different set of thrills and challenges from our zip line tour and properly round out our range of eco-adventures."
"With the new eco-adventure park and climbing programs, ArborTrek has established a true "adventure hub" for our guests and area visitors," comments Bill Stritzler, managing director of Smugglers' Notch Resort. "Over the years Smugglers' has responded to families' interest in outdoor adventures with a variety of programs that include rock climbing, guided hiking, llama trekking and more, all serving a variety of ages. It's very exciting to further expand our guests' choices with the Treetop Obstacle Course and Climbing Adventure." (For more information on family vacations at Smugglers' Notch Resort, please visit smuggs.com)
About ArborTrek Canopy Adventures at Smugglers' Notch, Vermont
Opened in the 2010, ArborTrek/Smugglers' Notch is ArborTrek's flagship location and the first of many planned aerial adventure parks. The adventure park was established in partnership with Smugglers' Notch Resort and adds to the many year-round, family activities and programs offered by the Resort. The Zip Line Canopy Tour is open year-round with the Treetop Obstacle Course and Climbing Adventure available early Spring through late Fall. New team building and group programs are slated to debut this summer and will also be offered year-round. While departures are available daily, advance reservations are highly recommended. To book a tour or to learn more about ArborTrek Canopy Adventure's plans to develop new aerial adventure parks, visit arbortrek.com or call 802-644-9300.