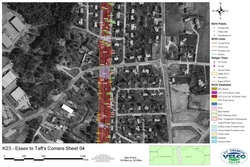 We tailored the vegetation management system to specifically fit the workflow for our crews in the field
Redlands, California (PRWEB) February 13, 2009
Vermont Electric Power Company (VELCO) has developed a vegetation management program that is saving the utility hours of work and significantly improving the accuracy of treatment on its 12,000 acres of rights-of-way. VELCO is a statewide, transmission-only company that maintains 660 miles of electric line through the Green Mountain State. The company's Vegetation Inventory Program (VIP) combines orthophotographs and field data and makes network information seamlessly accessible to workers in the field and the office. VELCO built its customized vegetation management application with ESRI's geographic information system (GIS) technology.
By using ESRI's ArcPad Mobile GIS software for field mapping, VELCO crews are able to capture, edit, analyze, and display geographic information. VELCO used ESRI's ArcPad Application Builder as the development framework for its customized mobile GIS ArcPad application. With ArcPad Application Builder, users such as VELCO can design custom forms for data collection, create unique toolbars, build applets for specific tasks, develop extensions, and more.
"We tailored the vegetation management system to specifically fit the workflow for our crews in the field," said Jarrod Harper, VELCO's team lead for CAD/GIS. "With the GIS application, field crews now can get very specific about where there is a need to use an herbicide or manually cut a tree. The application development was quick, inexpensive, and easy to use, and ESRI's ArcPad Application Builder made it possible to create a system that worked right into the workflow of our field crews."
Although the VELCO VIP system was designed for the company's vegetation management department, it has been adopted by other departments and is used for company work with helicopter line patrols, telecommunications, and the line crew.
"ESRI applauds VELCO's innovative development of a vegetation management system," said Jian Lange, ESRI's product manager for ArcPad. "ArcPad Application Builder was designed specifically to facilitate customization needs and support field staff with their specific projects and tasks."
About ESRI
Since 1969, ESRI has been giving customers around the world the power to think and plan geographically. The market leader in GIS, ESRI software is used in more than 300,000 organizations worldwide including each of the 200 largest cities in the United States, most national governments, more than two-thirds of Fortune 500 companies, and more than 7,000 colleges and universities. ESRI applications, running on more than one million desktops and thousands of Web and enterprise servers, provide the backbone for the world's mapping and spatial analysis. ESRI is the only vendor that provides complete technical solutions for desktop, mobile, server, and Internet platforms. Visit us at http://www.esri.com.
ESRI, the ESRI globe logo, GIS by ESRI, ArcPad http://www.esri.com, and @esri.com are trademarks, registered trademarks, or service marks of ESRI in the United States, the European Community, or certain other jurisdictions. Other companies and products mentioned herein may be trademarks or registered trademarks of their respective trademark owners.
# # #