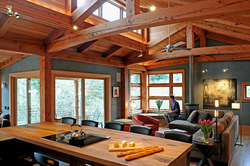 The Vermont Street Project is a living example of greater sustainability in a design and craft intensive home
Portland, OR (Vocus) April 20, 2010
New Energy Works recently announced the opening of their west coast show home. Aptly named The Vermont Street Project after its SW Portland address, it showcases the culmination of 25 years of custom timberwork and environmentally sensitive design and construction.
"The Vermont Street Project is a living example of greater sustainability in a design and craft intensive home," says Jonathan Orpin, President, New Energy Works.
He continued to explain that effective sustainability in the built environment is a balance of four major tenets: advanced mechanical systems; thoughtful sourcing of materials; strong and efficient structural and enclosure systems; and, perhaps most importantly, great design entwined with fine craft.
Features of the Vermont Street include: recycled heavy timber and SIP construction; FSC reclaimed and sustainable wood; 4.2 kW photovoltaic system; solar domestic water panels; 4,000 gallon rainwater harvesting system, and a living roof on detached studio.
"The home also represents a few firsts as we believe it to be the first timber frame home in Oregon seeking LEED Platinum status and the first home we know of where every possible wall surface was finished with a natural plaster material."
For those interested in a private tour, please see The Vermont Street Project Tour. The home will also participate in several public tours in the Portland area.
For more information visit The Vermont Street Project. Partners who collaborated on this project: Pioneer Millworks, Basco Appliance, Chown Hardware, Custom-Bilt Metals, Dimensional Millwork, Inc., ecohaus, Evolution Floors, GLD DesignStudio, Imaginenergy, Landscape East & West, Loren Nelson Photography, Mitchell Gold + Bob Williams, Traditional Natural Plaster Company, Premier Building Systems, Shelter Works, and West Side Electric Co.
New Energy Works designs and builds environmentally responsible timber frames across the USA from their Oregon and New York facilities. The company offers Timber Framing (design, engineering, manufacturing, build), Enclosure Systems, Fine Woodworking, Recycled and Sustainable wood products. The company uses 100% wind power, and heats its shops with scrap wood. New Energy Works has 2 LEED AP staff members, is a member of the US Green Building Council, and is FSC Certified in three categories. Visit New Energy Works.
###