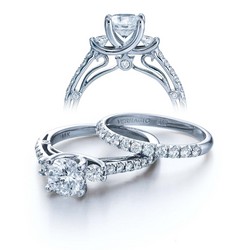 New York, NY (PRWEB) April 25, 2009
Verragio is proud to announce the launch of another opportunity for our loyal Facebook Fans to win an exquisite Verragio Engagement Ring. Beginning Monday April 20th, Verragio will be giving away one engagement ring every week, for the next five weeks.
As a Facebook Fan of Verragio, not only will you be automatically entered to win one of these exquisite engagement rings, but you will also have the opportunity to choose which rings will be given away at random.
Fans will have the opportunity to vote on which style will be chosen each week for the prize. The engagement ring with the most votes will be the designated prize for that particular week.
If you are not yet a Fan of Verragio on Facebook, please take this opportunity to join our family and be eligible to win a gorgeous ring. You may just be our next lucky winner.
###