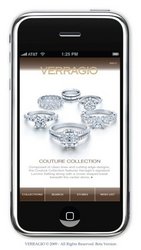 "Now it's easier than ever to drop that little hint to your special someone."
New York, NY (PRWEB) November 25, 2009
Set to be available for download around mid-December, the Verragio application for iPhone will serve as an extension to the existing engagement ring and wedding band site, Verragio.com. With the goal of constantly engaging the "on the go" shopper, the Verragio App will not only allow users to conveniently browse the Verragio engagement ring and wedding band collections and obtain instant product and pricing information, but will also allow you to create a wish list, share your favorite Verragio rings with friends, and instantly locate an authorized retailer. "Now it's easier than ever to drop that little hint to your special someone," says President, Barry Verragio. "With instant upload capabilities to social networking sites such as Facebook and Twitter, the Verragio application for iPhone enables users to quickly and easily share their favorite Verragio ring styles."
In addition to streamlining the browsing process for your Verragio engagement ring or wedding band, the Verragio application will provide immediate access as to where one can locate their ring choice by providing a list of authorized retailers in your area, complete with one-touch calling access and driving directions.
Verragio will be conducting a sweepstakes to coincide with the availability of the application on iTunes. All who download the new application will be eligible to win one of 5 Verragio engagement rings. Verragio will release further details as the availability date nears.
About Verragio:
Verragio specializes in engagement rings and wedding bands of the highest quality and beauty. Verragio is the creator of the Lumino Setting, a revolutionary setting technique that reveals all sides of a diamond, opening up every facet to light. Available in platinum, gold and palladium, Verragio offers designer engagement rings, wedding bands, men's wedding bands and eternity bands that can be seen only in carefully selected, authorized retail establishments. Verragio has been featured in fashion publications such as InStyle, Elle, Marie Claire and W magazine as well as trade publications such as INSTORE, INDESIGN and JQ.
###