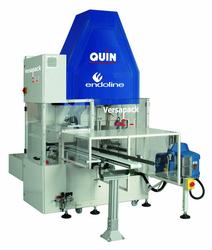 To help create the fastest, most flexible and productive machines in the world - putting imagination into motion
Wokingham, Berkshire (PRWeb UK) September 24, 2009
Following the successful launch of their compact erecting and packing creation - Versapack- last year, Endoline Machinery and Quin Systems are set to unveil a new version of the Versapack at this year's PPMA show - which will add a new dimension to this thriving machine. The new machine will be demonstrated on Stand B10 at PPMA Show, NEC Birmingham, 29th Sept - 1st Oct, 2009, and further details will be released on the Website http://www.versapack.co.uk.
Testament to the rapid success of The Versapack, customer United Biscuits ('UB') has reported a return on investment in under just 18 months.
The Versapack was installed within the company's Harlesden factory in May 2008 to assist with the increased demand on McVitie's Digestive twin pack line. UB Site Engineering Manager, Mark Springer comments, "Since its installation the machine hasn't missed a beat. While performance has remained on par with the former manual methods the overall reliability has resulted in a reduction of overheads. This has ensured the swift return on investment." UB is now in the process of purchasing two further Versapack machines.
In addition, The Versapack has proved a winning formula down under - with one customer purchasing a Versapack machine straight off the stage at the recent Auspack exhibition. A further four machines have also been sold as a result of the machine's Australian debut.
Unlike traditional combined machines, designed by specialists in either case erecting or case packing, The Versapack is a class above, as it has been uniquely created by two of the leading companies in their fields - Automation and Control specialist Quin Systems and end of line packaging manufacturer Endoline Machinery. A combination of Quin's high speed automatic RTheta Casepacker and an Endoline 220 series case erecting machine, the Versapack has the ability to run at very high pick rates and case throughputs and is designed to a small footprint - offering a compact solution for use in restricted areas.
Mike Webb, Managing Director of Quin Systems comments: "As a result of The Versapack's continuing success, we have created a new variant which is ideally suited to packing 'shelf-ready' as well as standard cases. Products can now be packed in almost any orientation including 'On-Edge', which presents the product to its best advantage on the supermarket shelf. This exciting new version will be launched at this year's PPMA show on our stand B10."
Notes to Editors
Since the company's inception over 25 years ago Endoline Machinery has built an enviable reputation as one of the country's leading end-of-line packaging machinery manufacturers. Renowned not just for quality machinery but also for excellent design and customer service Endoline continues to develop and extend their range of machinery in line with customer needs and demands.
Designed purely with the needs of customers in mind, Endoline's range of machinery demonstrates some special and unique features. For example the 221 series of case erectors incorporates a dual opposing vacuum case opening mechanism designed to ensure each case is opened positively from both sides. This provides efficient and reliable opening of cases and reduces damage - particularly important when erecting shelf-ready cases.
Quin Systems Ltd. was established in 1983 with the goal of bringing expert engineering skills to the field of machine automation and control solutions for many varied industries on a worldwide basis. Quin's aim from the outset was to develop machine control systems that gives users a higher degree of control and flexibility Quin has grown throughout its 25 year history, developing unique methods of control and motion. This has led to many patented machine elements such as the high speed R-Theta Pick & Place head as used in the Versapack
Quin has consistently delivered solutions and pioneered technologies, the essence of which is contained within its vision statement: "To help create the fastest, most flexible and productive machines in the world - putting imagination into motion".
For further information on Quin Systems and its products, please contact Quin on Tel: 0118 977 1077, Fax: 0118 977 6728 or email: sales (at) quin (dot) co (dot) uk or visit the website at http://www.quin.co.uk/main.htm
For further information on any of Endoline's extensive range of machines, please contact Endoline on Tel: 01767 316422, Fax: 01767 318033, email: sales (at) endoline (dot) co (dot) uk or visit the website at http://www.endoline.co.uk
###