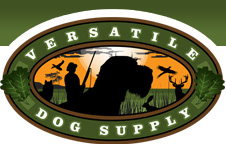 (PRWEB) September 21, 2012
When a person is the parent of a dog, they have to be able to turn on a dime, at a moment's notice and keep a smile on their face. In other words, they need to be a very versatile puppy-daddy (or mommy).
"Dogs are really pretty smart," says owner Sean Hicks. "They're always changing the rules-of-the-game. That's where Versatile Dog Supply can become a great asset. Versatile Dog Supply is as agile as the dogs we serve.
Versatile's human customers give the online store a satisfying pat on the head. "It was refreshing to receive such quick and responsive service," wrote a client from Bentonville, AR. Others have emailed Versatile saying, "As an avid gun dog trainer, I find it refreshing to deal with a staff whose product knowledge is based on experience. It saves me valuable time which translates to more training time with my dogs."
With a product line from the top manufacturers in the business, Versatile Dog Supply has high-quality products at price-slicing values.
Take a look at just a portion of what Versatile Dog Supply has to offer for the trainer:

Dog Tracking Collars
Bark Collars
Bird Launcher and Releasers
Dummy Launchers
Training Dummies
Dog Training Books and Videos
For those looking to purchase top-of-the-line, cost-friendly pet accessories, here's what is available at Versatile Dog Supply:
Dog Doors
Dog Kennels
Dog Crates and Covers
Dog Houses
Dog Travel Mats
Dog Seat Covers
Dog Bowls and Food Storage
Along with Versatile's website store, they also have a blog for dog-owners. This online place gives pet people "how-to" articles on subjects like Dog on a Diet; Training to Do Tricks; Dog Training with Rewards: Food and Treats; and What a Dog Needs to Know, to name a few.
"That fluffy best friend has the capacity of understanding quite a few words. On average, dogs can recognize about 150 things relating to human language. It doesn't matter if your tongue is English or Chinese, Zulu or Phoenician, canines have the same capacity of a 2-year old child to figure-out that sounds mean something," one blog post explains.
"Dog owners want their mutt to learn what their grunts are all about and by doing that the owners will end up with a happier pet. A dog that "gets it" is less likely to have behavioral issues."
Hicks adds, "At Versatile Dog if there are easy-to-understand and educational blog posts, that adds value to the customer's experience. People who are up-to-speed on the latest techniques and concerns are the best clients. VDS values versatility and also values the wisdom of customers."
ABOUT VERSATILE DOG SUPPLY
At Versatile Dog Supply, the goal is to be a central point of purchase for customers and their companions. As customers visit our Hunting Dog Supplies store, they can be rest assured that Versatile Dog Supply will strive to make any visit hassle-free, easy to navigate and informative. Versatile Dog Supply has virtually everything a dog owner would need to keep his or her canine healthy and happy. For more information about Versatile Dog Supply, contact them at 1-866-305-8779 or visit their website