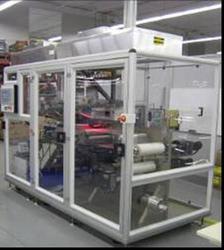 It is a very novel technology for emerging nanotech applications that will make possible electronic devices on large area, flexible rolls
Shelburne, VT (PRWEB) December 6, 2010
Versatilis LLC, a high technology development Company based here, announced today that it has acquired the technology assets of Nanometrix, Inc. of Montreal, Canada. The acquisition included all of the intellectual property and the associated inventory, production and laboratory equipment owned by Nanometrix. Price and terms were not disclosed. Versatilis intends to combine the acquired technology with several of its own developing technology and to immediately relaunch the business, eventually spinning off a separate subsidiary under a new name. The business will provide a novel engineered system solution for emerging nanotechnology applications that can enable next generation products based on so-called "Macroelectronics" or large area, flexible electronics. These include novel solar cells and solid state lighting panels in large area, flexible forms.
Nanometrix, Inc. was founded in 2001 by Dr. Gilles Picard and Juan Schneider to commercialize novel technology they had developed for depositing ultra-thin, micro and nano-coatings of important organic and inorganic materials, including single layers of arrayed particles. It is one of very few, if not the only known technology that can lay down such a dense monolayer of semiconductor particles at commercially viable rates, creating kind of a "sandpaper" effect. The technology has broad application in many emerging fields, and will help enable devices such as large area, flexible displays, solar cells and solid state lighting panels. Early investors in Nanometrix included the Venture Capital arm of the Business Development Bank of Canada, Investissement Quebec, and Innocentre.
"We researched technologies worldwide to find such a capability, only to find it practically next door. We are delighted to add it to our portfolio of leading edge technologies for next generation flexible electronics" said Versatilis President and CEO George Powch, adding that Versatilis plans to establish a new Montreal based R&D Center to focus on potential applications. Nanometrix cofounder and Chief Technical Officer Juan Schneider is helping Versatilis establish the new Montreal R&D Center and is becoming involved with a number of the Company's projects.
Versatilis LLC is a research and development, intellectual property oriented venture focused on developing high growth businesses in the area of flexible electronics. The Company levers advanced materials and manufacturing process technology which it has developed or acquired for a unique competitive advantage in applications ranging from flexible displays to flexible solar cells, from flexible solid state lighting panels to specialized applications in defense.
The Company was founded in 2004 in Shelburne, Vermont by Ajay Jain, Chief Technology Officer, and George Powch, President and CEO. It works with associates and partners around the world, and with a number of leading research universities. Versatilis has won numerous Small Business Innovation Research (SBIR) Awards from agencies of the U.S Government, including several from the Defense Advanced Research Projects Agency (DARPA), Army Research Laboratories, and from the Department of Energy (DOE). Versatilis is a 2006 winner of the National Roland Tibbetts Award for SBIR Excellence. The Company is funded by a number of private investors who specialize in leading edge technology ventures.
###