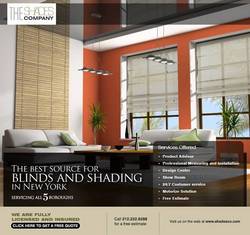 Paramus, NJ (Vocus) March 3, 2010
A mini blind (miniblind or venetian blinds)is a type of non-vertical window blind made of long, narrow slats held together by string and located inside the window. Its slats are not as wide as venetian blind slats. A mini blind has more slats than a regular Venetian blind because its slats are narrow. The slats of mini blinds are less than half the width of regular Venetian blinds. They are usually made from 15mm or 25mm aluminium slats. The slats are opened and closed by rotating a rod or by directly pulling a string. They are raised and lowered by pulling other strings.
The Shade Company provides traditional, contemporary, rustic and New York chic mini blinds made from aluminum, designed fabrics, wood, solarium and remote control.
ShadesCo make a classic modern with Hunter Douglas Somner Custom Vertical Blinds. This window treatment collection features a wide range of textures, patterns and colors, including fabric, vinyl and several aluminum choices to complement any decor from traditional to contemporary. These vertical blinds are categorized into six vinyl types, according to their unique characteristics, along with a wide range of fabric textures and styles: Softex – Textured finish that is quiet to the ear and soft to the touch, Duotex – Two-color textured material featuring neutral tones and soft colors for a harmonious appearance, Prints – Multi-colored printing process creates patterns reminiscent of fabric with the durability of vinyl, Classics – Offer traditional yet elegant styling, Textures – Customized texturing process that gives solid-colored vinyl blinds a unique textural look and feel, Lutex – enables the vinyl to take on a translucent quality. Hunter Douglas also offers another selection of vertical window treatments, specifically Vertical Solutions Select Vertical Blinds in NY.
ShadesCo's vertical blinds line have long and durable vanes that provide superior light control, simultaneously making it easier to clean and care for. Review our extensive gallery which is guaranteed to help you choose the perfect finish to any decor.
The Shade Company is one of the leading manufacturers of window treatments that New York City has to offer.We specialize in all window adornments such as; blinds, shades, shutters, solar shades, skylight shades, office shades and custom drapery for all windows. Our wide selection of window shades, blinds drapes and silhouettes will accent and improve your room appearance while allowing the perfect flow of light through your windows.
If you require any further assistance our friendly customer support will give you all the help you need.
CONTACT
The Shade Company, Sales Office
419 Lafayette
New York, NY 10003
Tel: (212) 222-8288?
Web: http://www.shadesco.com/
Map: http://maps.google.com/places/us/10002/ny/new-york/e-broadway/264/-shadesco-nyc-motorized-shades-&-blinds?hl=en
###