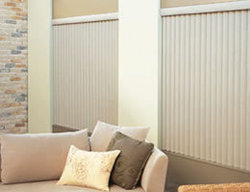 We're really excited to offer these blinds in time for spring and summer. As the sun becomes stronger, the more important it is to protect one's home with vertical blinds
Phoenix, AZ (Vocus) February 19, 2010
Blinds Chalet introduces their new S Curve Vertical Blinds. With durable mechanisms and self-aligning carriers, these blinds provide a tighter closure of the blinds that benefits both the security of the home and energy savings.
Large windows such as patio doors and French windows can be hard to find coverings to fit properly. S Curve Vertical Blinds are custom made to fit the exact specifications of individual windows and doors. Easy installation instructions come with each purchase as well as having Blinds Chalet's representatives available to help. "We're really excited to offer these blinds in time for spring and summer. As the sun becomes stronger, the more important it is to protect one's home with vertical blinds," says Chris Stanley of Blinds Chalet.
Vertical blinds offer the added benefit of being able to control sunlight that can also control sun damage. Harmful UV rays can fade furniture and expensive paintings. Vertical blinds allow light in during the winter colder months, but can be aimed to have the sun's rays point away from expensive furnishings.
S Curve vertical blinds provide privacy, making them ideal for ground level rooms such as living rooms, kitchens and patios. With a curved vane, these blinds give a tighter closure, securing houses from prying eyes when homeowners are on vacation or off at work.
Because of their durability and thickness, vertical blinds block cold air from coming into the house during winter and keep warm air outside in the summer months. This protection results in energy savings and a more comfortable home.
Available in a variety of neutral colors, S Curve vertical blinds can break up the monotony of a room without focusing attention on them. The color palate also blends with most rooms, to allow the eye to focus on paintings or furnishings. Blinds Chalet also offers their customers the choice of which side of the blinds they prefer the draw/tilt mechanism to allow a clean look across the room.
For more information on window blinds, Blinds Chalet or current trends in the industry:
Contact: Chris Stanley
Company: Blinds Chalet
http://www.BlindsChalet.com
Phone: 1-888-633-7840 or 480-633-7840
# # #