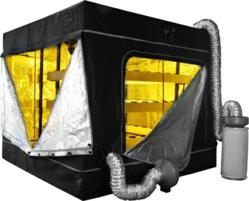 San Francisco, CA (PRWEB) March 22, 2012
The Big Budda Box, the venue in this Grow-Off, is a vertical hydroponics grow room system in a house that contains 4 multi-shelved walls with 87- net cups nested within the tiered grow trays situated around a centralized light column that extends from floor to ceiling. The effect of this amazing set up is four lush walls of tomato flora all growing towards the center of the system. Going vertical's main benefit to the hydroponic indoor gardener is to quadrupling yields but only using half the electricity compared to a horizontal oriented hydroponics system. Going vertical is hands down the most sustainable indoor garden grow method.
Back to the Grow-Off and already both sides of the Big Buddha Box are performing better than expected and all clones are extremely healthy. This is probably due to the Big Buddha Box's SuperPonics reservoir system has been optimized for water distribution and flow. SuperPonics, put simply, is a synergy of hydroponics technology. It is the technical term that combines all of the best hydroponics growing methods into one system that grows plants up to 2x-5x faster than traditional methods. SuperPonics systems fuse different combinations of Top Feed, Deep Water Culture, Ebb N' Flow, Bubble, and Aeroponics all into one automated system designed to be the fastest, easiest, and most user-friendly hydroponic growing system.
Each side of the Big Budda Box should produce excellent results and the competition is being documented online. Goto the SuperCloset Grow Blog and the SuperCloset Facebook Page for updates.
About SuperCloset:
SuperCloset takes the guesswork out of growing through manufacturing the most innovative and customer friendly hydroponic systems and turn key grow box units. After 10 years SuperCloset continues to lead the the horizontal and vertical growing industry with its commitment to excellent products and world-class customer service.