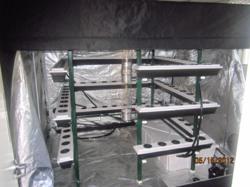 San Francisco (PRWEB) May 16, 2012
Hydroponic systems are highly efficient as lush, bountiful crops are being grown in smaller areas and providing greater yields at a fraction of the cost for water and electricity needs. The Big Buddha Box takes efficiency a step further as it is an innovative vertical hydroponics system for the hobbyist to commercial indoor gardener. It is very cost-effective at producing lettuce, green leafy vegetables and tomatoes and herbs. The Big Buddha Box is a four walled, 87-plant capacity growing system vertically oriented toward a light column in the center of the unit. With the vertical net trellis system instituted in the design, plants are coaxed and trained to grow toward the center of the unit enabling maximum production. In the Big Buddha Box, plants typically only need to reach up to 2 feet before they can be harvested and consumed. Compared to the traditional flat garden the Big Buddha Box takes up less space and capitalizes on light energy supply than a traditional 87-plant horizontal garden. In addition, vertical systems used indoors with portable assembly materials and can be set-up for much less than the traditional horizontal set-up cost.
The growing global market trend of hydroponics will continue to surge due to its efficiency and high quality of production. Though much of the producers are based in the First world countries, many greenhouses in other countries use hydroponics technology, indicating that hydroponics has been recognized for its efficiency in agricultural production. SuperCloset plans to continue to be at the forefront of global acceptance and use of hydroponics.
About SuperCloset:
SuperCloset takes the guesswork out of growing through manufacturing the most innovative and customer friendly hydroponic systems and turnkey grow box units. After 10 years SuperCloset continues to lead the horizontal and vertical growing industry with its commitment to excellent products and world-class customer service.