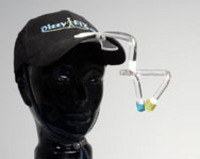 I found the device and the instructional materials easy to use. It took only one use to correct the problem. I am very grateful to you.
Edmonton, Canada (PRWEB) April 21, 2009
A new Canadian medical device is now available worldwide for self-directed home treatment of BPPV (Benign Paroxysmal Positional Vertigo), the most common cause of spinning vertigo.
While causes can range from complications associated with aging to the shock of a violent collision, BPPV results from the collection of tiny particles in the balance canals of the inner ear. When these particles shift with head motion, they confuse the balance organ, leading to vertigo and the accompanying debilitating dizziness.
BPPV is treated using a specific series of head and body positions known as the Epley Maneuver, designed to guide the errant particles back to their proper place. Traditionally, vertigo treatment using Epley Maneuver required a visit to a specialist physician, which could mean months of disruptive dizziness for patients stuck on waiting lists. Even after a successful clinical treatment, BPPV is often recurrent and it has been estimated that, unfortunately, only about 8% of persons suffering from BPPV receive appropriate treatment.
The DizzyFIX is an award winning, inexpensive, visual feedback device that allows people suffering from BPPV to retake control of their lives through a simple, self-directed vertigo treatment. It guides patients through the Epley Maneuver, which allows those with recurrent vertigo to treat their BPPV immediately in the comfort of their own home. Clinical trials show an 88% success rate using the device, which improves patient satisfaction and spares the health care system the cost of repeated specialist visits.
Dr. John W McDonald, Past President of the Royal College of Physicians and Surgeons, BPPV sufferer, and professor at the University of Western Ontario, where a series of clinical trials were conducted, said, "I found the device and the instructional materials easy to use. It took only one use to correct the problem. I am very grateful to you."
Featured this week on Global TV Edmonton and in the latest issue of the Alberta Heritage Foundation for Medical Research (AHFMR) News, the DizzyFIX is a patented device, developed in Canada by experts at Clearwater Clinical. The DizzyFIX has been cleared as an effective vertigo treatment by US FDA, Canada Health, and other authorities following university clinical trials. The DizzyFIX is available in 62 countries including in most Canadian pharmacies or online.
Click to view media coverage of this unique, drug-free BPPV treatment.
About Clearwater Clinical Limited
Clearwater Clinical Limited is a medical technologies company dedicated to the design, development and manufacturing of innovative medical-grade devices and surgical equipment intended for use in both the operating room and office practice. The company is based in Calgary with offices in Canada (Calgary, Edmonton, Vancouver), the United States (Cincinnati, Baltimore), and China (Hong Kong).
For more information, please contact:
Matthew Bromwich, MD, FRCS(c)
Clearwater Clinical Limited
Ph: 1-877-349-9934
http://www.dizzyfix.com
###