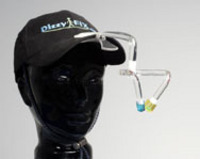 DizzyFIX enables patients to treat and cure their own symptoms from the comfort of their own home.
Calgary, Canada (PRWEB) September 23, 2008
The U.S. Food and Drug Administration has cleared DizzyFIX, an at-home treatment for vertigo and dizziness which helps guide patients through the Epley maneuver, for sale in the U.S.
"DizzyFIX will now be available by prescription in the U.S. and is already available over-the-counter in Canada and other countries," said Dr. Alp Sener, MD, PhD. "Benign Paroxysmal Positional Vertigo (BPPV) is one of the leading causes of dizziness. Dizziness from BPPV affects as many as 10 per cent of people over age 60."
The FDA ruling followed an extensive review by the U.S. agency of peer-reviewed research demonstrating the effectiveness of the DizzyFIX in treatment of BPPV.
Developed by ear, nose and throat specialists, the DizzyFIX is a low-cost, patent-pending dynamic visual-feedback device that easily attaches to a hat. It is used as a guide to the Epley maneuvers (particle repositioning maneuvers) that treat the most common cause of vertigo, BPPV.
As many as one in ten people over the age of 60 will suffer from the sudden spinning attacks that characterize BPPV, which can cause nausea, falls and long-term disability.
"Patients who suffer from vertigo now have an alternative to simply masking the symptoms with drug therapy," says Dr. Matthew Bromwich, DizzyFIX inventor and ear, nose and throat specialist. "DizzyFIX enables patients to treat and cure their own symptoms from the comfort of their own home."
The Makers of DizzyFIX
Clearwater Clinical Limited is an innovative Canadian company whose partners met during their education and are either in training or have recently completed training as specialist physicians and surgeons, clinical and basic scientists, computer specialists and businessmen.
Their primary objective is to foster the development of novel concepts in medical technology and introduce them into the marketplace. The team is geographically diverse and teleconferences from six cities in three countries.
To learn more about the DizzyFIX, please visit DizzyFIX.com or see our site for background information on DizzyFIX and more information about the Epley Maneuver. http://www.dizzyfix.com/dizzyfix.asp
Contact:
Dr. Jacob Jaremko
Clearwater Clinical Limited, makers of the DizzyFIX
http://www.clearwaterclinical.com
1-877-349-9934
# # #