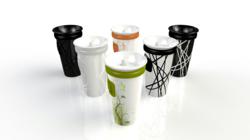 Save a tongue, get your hand on VertiGOmug.
Montreal, QC (PRWEB) February 21, 2013
A3D Innovation, Montreal based family firm specializing in industrial design, development and product improvement, introduces its major breakthrough and latest project – the vertiGOmug tumbler.
The vertiGOmug tumbler is an innovative way to enjoy your coffee or tea without burning yourself.
Every day, the "first sip" of coffee burns millions of people using a mug. Just got scalded with my tea tumbler while writing this! You can wait ages for the coffee to be drinkable, then before you know it, it's cold and only good for the sink. What a waste.
Roberto Barbusci came up with the idea of dividing a mug or a tumbler in two separated compartments; one that keeps beverage hot and another one that cools down some sips in seconds to prevent burns. A day after talking about the idea to his wife Véronique, they decide to begin the vertiGOmug design and build several prototypes before giving birth to the ideal and patent pending solution. The couple successfully achieved their 'aesthetic thrill' collection; an innovative mugs line made of sustainable materials where you will always put your lips on ceramics that will make every cup a comforting experience down to the last drop.
The couple made a quick and funny Video to show vertiGOmug advantages.
Made of eco-friendly ceramic and natural silicone, it is a covered mug with a simple pump system that allows a controlled amount of coffee to escape vertically from a small spout that sits on the top of the cover. Releasing the coffee allows it time to cool before taking your first sip. Its double-sided insulation and innovative cover keeps your beverages warmer for a longer period as opposed to an open cup or vented travel mug. They also made sure that the lid will prevent from accidental spills, that the product will be dishwasher safe and fits into cups holders. You can use it anywhere, at coffee shops and coffee bars like Starbuck, in tea shops like David's tea, in house of tea rooms, at the office or on the road.
"Unlike paper or plastic cups, vertiGOmug does not react at high temperature so it does not alter the taste or quality of your premium coffee or tea," says Roberto Barbusci, industrial designer at A3D Innovation and co-founder with his wife. "It's also an effective way of preventing billions of disposables cups from ending up in landfills every year."
In the next week, if you are wasting many cups of cold coffee, vertiGOmug is cashed back to your pocket in a week and will make you save for years to come. Period.
A3D innovation has partnered with indiegogo.com, an international crowdfunding platform for creative projects, to help consumers get their hand on the vertiGOmug as soon as possible. "We invite the consumer to be part of this adventure with us," says Véronique Bibeau-Poissant, President of A3D Innovation and co-founder with her husband. "If people like the vertiGOmug project, they can pledge money to make it happen quickly and receive their vertiGOmug in return."
In addition to reaching their funding goal by March 18th, A3D innovation is also asking the Indiegogo community to select their favorite design from six different patterns. Project supporters, also known as 'contributors' within the Indiegogo community, may also chose to purchase the vertiGOmug at a limited discounted price, as part of a pre-sale pending the official launch. Projects 'contributors' are only charged if the funding goal is reached.
To view and/or support the vertiGOmug project please visit Indiegogo.com. Additional information is available by visiting vertiGOmug.com.
About A3D Innovation
A3D Innovation is an award-winning family firm specializing in product design and manufacturing. Since 2003, A3D's design services are targeted to maximize your profitability while reducing operating costs. The firm offers a personalized, made to measure service. Its industrial design team has over 14 years of experience and participated in the design of over 100 projects.
###
For photos, videos, interviews or information, please contact:
Roberto Barbusci | 514.978.2334