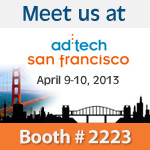 We are very much excited to be a part of ad:tech San Francisco. Vertoz is the fastest growing contextual ad network & within a short span of time, we have created a niche in the Industry - Ashish Shah
San Francisco, CA (PRWEB) April 03, 2013
Vertoz, The Ingenious Global Online Advertising Network is excited to announce its presence at ad: tech – The Largest Event for Digital Marketing at Moscone Center West, San Francisco on April 9-10, 2013 to grab an opportunity to meet the innovative minds from digital marketing under one roof.
Drop in at our booth #2223. Vertoz Team would like to take an opportunity to network with the exhibitors and attendees on what's new in Mobile, Search and Display. ad:tech event is a dynamic digital marketing avenue for new trends and emerging technologies, bringing together the experts to discuss on the valuable insights of digital marketing.
"We exhibited at ad:tech New York last year. It was overall a wonderful experience which has made a huge difference to our business. We are very much excited to be a part of ad:tech San Francisco. Vertoz is the fastest growing contextual ad network and within a short span of time, we have created a niche in the Industry. With high aspirations, We look forward to put up a great show at San Francisco," says Ashish Shah, Founder & CEO.
About Vertoz:
Vertoz is an Online Ingenious Ad network offering Innovative Contextual Advertising On DISPLAY for Page Ads, Margin Ads, Footer Ads & Text Ads, On MOBILE for WAP Website Ads & Mobile Applications Ads and On SEARCH (XML) for Domain Parking Ads, Toolbar Ads & Search Box Ads for Advertisers on Various Inventories of Publishers.