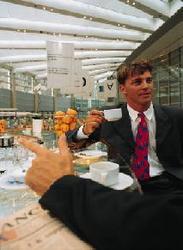 I've put on ten pounds since I finished college and started working at an office
Norwalk, CT (PRWEB) June 12, 2008
"I've put on ten pounds since I finished college and started working at an office" is a statement many people have heard during water-cooler conversations. Vertrue Incorporated, a leading consumer services marketing company, recognizes the importance of exercise and healthy eating habits, especially in a society surrounded by step-saving solutions, which greatly reduce the opportunities to engage in physical activity.
The effects of this lack of physical activity can be clearly seen in office settings: bulging bellies and obesity-related issues are a common denominator at companies all over the country. But no one gains weight simply because of an office job. Both individual actions and the environment affect each person's weight, notes Vertrue. Some choose the stairs to get to the meeting on the top floor of the building, while others not only take the elevator but also get a snack from the vending machine on the way to the meeting.
Along with laziness, eating habits can often be a powerful reason for workplace weight gain. Calorie-laden treats seem to be all around, and in many cases people don't make smart choices when they go out for lunch during the workweek. Fortunately for everyone, there are ways to fend off workplace weight gain. Some simple tips and smarter food choices are part of a list offered here by Vertrue:
-- Stay hydrated. Many people confuse dehydration with a snack craving. Be sure to keep a bottle of water at the desk throughout the day. If plain water seems boring, try adding a flavored drink mix with no calories.
-- Start off right. Skip the bagel, and choose a high-protein or a fiber-filled breakfast. It will provide the energy to get through the morning without any high-fat treats or unhealthy snacks before lunch.
-- Brown-bag lunch. Preparing lunch at home makes it easier to control nutrition needs and portions. Light sandwiches, salads, and sliced fruits and vegetables are healthy options to bring to work.
-- Go for other snacks. Sometimes the urge for a candy or a light snack can't be avoided. What can be avoided are the high fat and sugar temptations offered by the vending machine. Stock up the desk drawers with healthier snacks, such as oatmeal bars, fruits, pistachios and other nuts, etc.
-- Move around. There are many ways to get some extra physical activity during the workday. Park the car farther away from the building, walk over to coworkers' desks instead of emailing or calling them, take the stairs to the cafeteria or other floors, and if possible, take five minutes to walk around the building during lunch time. All these extra steps will add up.
Along with the individual efforts made by employees, many companies provide exercise areas within the premises or offer discounts to nearby gyms and sports center. When working together for a common goal, employees and companies will feel the positive effects of common wellness, reports Vertrue.
About Vertrue Incorporated
Headquartered in Norwalk, Conn., Vertrue Incorporated is a leading Internet marketing services company and premier marketing partner to corporate clients. Vertrue, through its various subsidiaries, gives consumers access to services that offer substantial discounts and convenience for important decisions in their everyday lives. The services offered by the Vertrue family of companies span healthcare, personal property, security/insurance, discounts and personals and are offered online through an array of marketing channels. Partners can enhance market presence, strengthen customer affinity and generate additional value through programs offered by subsidiaries of Vertrue.
###