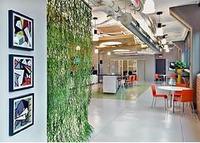 It's a good way for a local company to support local talent, which is a win-win situation for the artists, employees and members of the community.
Norwalk, CT (PRWEB) January 21, 2008
Designing a workplace that encourages teamwork, creativity, open communications and enhanced productivity takes time, skill, effort -- and, occasionally, a taste for the abstract. Vertrue Incorporated, a recognized leader in the field of membership and loyalty programs, has built an office that fulfills those goals, in part by recognizing that walls can play an important role even in an open-floor environment.
After moving into its Norwalk, CT, headquarters in March 2006, Vertrue's open-floor workspace received high praise from the Connecticut Chapter of the American Institute of Architects for creating a multi-floor, cutting-edge office space out of an erstwhile tire factory. The signature concept of the design is the absence of any cubicles or offices. Aside from rest rooms, quiet rooms, and meeting rooms, the only walls in the office are load-bearing and exterior walls.
Gary Johnson, Vertrue's CEO, envisioned using those walls to host a rotating art gallery that would spur conversations and heighten creativity among employees. Ann Hart and her company, annart, were hired to fulfill this vision.
Ms. Hart's company has access to the works of hundreds of professional, mid-career and emerging artists along the New York-New Haven corridor. A good number of artists are affiliated with local Connecticut art groups, including the Loft Artist Association in Stamford; the Wilson Avenue Loft Artists (Rowayton); the Ridgefield Guild of Artists; the Silvermine Guild of Artists (Norwalk); and art professors on the Norwalk Community College faculty. Many of the artists have had their works displayed in museums, galleries, and corporate and private collections across the country.
Relying on this wealth of area talent to expand and refresh her inventory, Ms. Hart rotates the artwork in Vertrue's headquarters every four months, typically installing 60 to 80 pieces each time. Pieces range from paintings and prints to sculptures, photography and even vintage posters. She chooses each piece herself, grouping together up to six pieces by the same artist in any given area to offer passersby and nearby employees a much more engaging view than a blank wall provides. Vertrue pays a leasing fee to display the artwork, and each piece is also available for purchase.
Art leasing is becoming more attractive to businesses as a way to create a stimulating work environment and connect with local businesses and residents. Indeed, Vertrue hosted an evening of cocktails, hors d'oeuvres and art at its headquarters shortly after moving into the new location. And, as Ms. Hart notes, "It's a good way for a local company to support local talent, which is a win-win situation for the artists, employees and members of the community."
Greater community involvement, enhanced creativity and a more inspiring workplace atmosphere can also help a company achieve better bottom-line results, and the rotating art gallery has made a worthwhile contribution to those larger goals, reports Vertrue.
About Vertrue:
Headquartered in Norwalk, Conn., Vertrue Incorporated is a leading Internet marketing services company and premier marketing partner to corporate clients. Vertrue, through its various subsidiaries, gives consumers access to services that offer substantial discounts and convenience for important decisions in their everyday lives. The services offered by the Vertrue family of companies span healthcare, personal property, security/insurance, discounts and personals and are offered online through an array of marketing channels. Partners can enhance market presence, strengthen customer affinity and generate additional value through programs offered by subsidiaries of Vertrue.
###