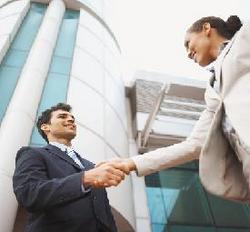 Internships play a great role in career enhancement, and I'm glad that Vertrue gives that opportunity to young minds
Norwalk, Conn. (PRWEB) May 22, 2008
Vertrue Incorporated, a leading consumer services marketing company, acknowledges the benefits of placing interns in different departments of the company. "Internships play a great role in career enhancement, and I'm glad that Vertrue gives that opportunity to young minds," says Gary Johnson, CEO of Vertrue Incorporated.
Internships allow students to test the theories they've learned in the classroom. The contact with "the real world" gives them hands-on experience and allows them to discover other aspects of themselves, as people and as professionals. Interns can also contribute all kinds of business value, notes Vertrue. When well managed, the amount of time that interns contribute can truly enhance the overall productivity of the company.
For students, summer internships can be one of the most important career decisions they make during college. It's their chance to learn and get a taste of what's coming after graduation. To make this experience a more memorable one, Vertrue suggests that interns:

Embrace the opportunity. Internships provide a chance to experiment and pursue careers that match a student's personal and academic interest. It allows students to explore different aspects of the field of study and get a better idea of what the future holds if they decide to stay in the same area of business.
Learn, learn, and learn. Completing an internship gives students the chance to develop industry-specific abilities, which may come in handy down the road. A good way to absorb as much knowledge as possible is the "look-listen-learn" mode. By paying attention to what goes on in the office, interns can learn a lot about the good, the bad and the ugly sides of the corporate world.
Ask enough questions. As an intern, one goal is to show sharpness and an ability to deal with responsibilities, so asking too many questions can be as bad as never asking any. By using the previously mentioned "look-listen-learn" technique, interns can figure out many answers on their own, eliminating silly questions in the process. "Thinking before asking" is a good rule to keep in mind.
Be reliable. This is a critical characteristic for all interns. Bosses and co-workers will consider an intern to be reliable when he or she shows up on time, completes all tasks assigned, and demonstrates enthusiasm for the work.
Reap the benefits. A productive internship will make any student more marketable for a job after graduation, even if the job isn't in the exact same field. Also, it can make the student a more attractive candidate for scholarships or fellowships, if that's the goal. At the very least, being a good intern can provide great letters of recommendation, which are always useful tools for job-searching purposes.
Companies should make internships fun and enjoyable for interns. The students are highly capable of contributing, but managers have to make an effort to supervise interns while working together on important projects that might otherwise stay on the back burner, reports Vertrue.
About Vertrue Incoporated
Headquartered in Norwalk, Conn., Vertrue Incorporated is a leading Internet marketing services company and premier marketing partner to corporate clients. Vertrue, through its various subsidiaries, gives consumers access to services that offer substantial discounts and convenience for important decisions in their everyday lives. The services offered by the Vertrue family of companies span healthcare, personal property, security/insurance, discounts and personals and are offered online through an array of marketing channels. Partners can enhance market presence, strengthen customer affinity and generate additional value through programs offered by subsidiaries of Vertrue.
# # #