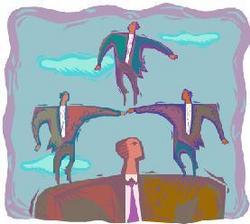 Norwalk, CT (PRWEB) May 5, 2008
Vertrue Incorporated, a leading consumer services marketing company, acknowledges the significance of team performance in the success of any company. Fostering teamwork is a top priority for many leaders, but many also struggle with building those teams into strong, healthy and productive units.
Anyone who wants to effectively implement a team needs to leave behind the "I" notion. In today's world, individual achievement is not as desirable as a top collective performance. Critical features of a strong team include a considerable degree of empowerment and decision-making authority. And these two features are the result of the work of the members, employees who understand that their functions exist to serve the bigger picture and mutually support each other's overall performance.
Clear vision is the first identifiable step in creating successful teams. Company leaders must have a distinct idea of what kind of teams they need to reach their goals and satisfy customers. Once this vision is established, leaders should focus on creating teams that can work at a high level of performance, based on the five C's recommended here by Vertrue:
1. Contribution: Balanced participation is very important for a team. Each member contributes to the ultimate goal according to his or her skills and initiative, but no individual person should carry the entire burden. Team members should always feel empowered by their actions; this empowerment builds confidence and sense of belonging.
2. Communication: Positive communication heightens the energy of a team. Communication within a group entails the creation of a friendly, positive and open environment in which members feel free to say what they think, and know how to provide feedback and receive criticism.
3. Commitment: This is the foundation for synergy in any group, notes Vertrue. It provides a sense of direction and a backdrop for all team decisions. To achieve a higher level of commitment, elements such as communication and empowerment of each team are highly important.
4. Connections: Cohesive work teams can add value to any company. The connections begin with the individual, who is aware of his or her impact on the team. It continues with the team, which knows its position in the corporation and how its work affects other teams and the entire company.
5. Conflict management: Issues can arise on any team at any given time. The difference between high- and poor-performance teams is the way those problems are managed. If people think that conflict never occurs in "good" groups, it could be because such groups have created an effective way to deal with conflict, one that allows them to deal with issues while performing to their expectations.
In today's fast-changing business environment, teams have emerged as a requirement for business success. Company leaders should constantly try to facilitate the evolution of teams to become not just a mere group of people, but an entity that works on helping one another to accomplish organizational objectives, reports Vertrue.
About Vertrue
Headquartered in Norwalk, Conn., Vertrue Incorporated is a leading Internet marketing services company and premier marketing partner to corporate clients. Vertrue, through its various subsidiaries, gives consumers access to services that offer substantial discounts and convenience for important decisions in their everyday lives. The services offered by the Vertrue family of companies span healthcare, personal property, security/insurance, discounts and personals and are offered online through an array of marketing channels. Partners can enhance market presence, strengthen customer affinity and generate additional value through programs offered by subsidiaries of Vertrue.
###