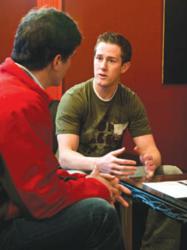 Working with Vess over the past three years has been an incredible experience - says Dave Royce, CEO of EcoFirst Pest Control.
Provo, UT (PRWEB) February 16, 2012
Touted by PCT Magazine as the 51st largest pest control company in North America and the fastest growing pest control company by a large margin, EcoFirst Pest Control boasts a world-class staff, however, atop them all, the esteemed company is proud to announce that Vess Pearson was recently awarded EcoFirst Pest Control's "Employee of the Year" award for 2011.
Pearson has been with the company since its inception in 2009 and currently oversees all marketing and sales for EcoFirst. Amazingly, last year alone Vess oversaw the addition of more than 44,000 new customers to the company, amounting to the largest amount of accounts put on by EcoFirst in a single summer.
It is successes such as these that have earned him "Employee of the Year" honors and praise from Dave Royce, the CEO of EcoFirst Pest Control.
"Working with Vess over the past three years has been an incredible experience," says Royce. "With some luck and a lot of hard work, we have been able to break just about every pest control industry record. A large part of EcoFirst's explosive growth is owed to Vess Pearson and his enthusiasm to build an outstanding organization. Vess has attracted the industry's top talent to EcoFirst and his leadership by example will continue to lead our company forward for many years to come."
A graduate of Brigham Young University with a degree in accounting from the Marriott School of Business, Pearson has helped lead EcoFirst Pest Control into becoming one of the top 100 pest control companies (according to PCT Magazine) and because of this, EcoFirst is proud to have crowned him as their top employee of 2011.
EcoFirst is an accredited Better Business Bureau (BBB) business, and member of the EPA's Pesticide Environmental Stewardship Program. Admittance into the PESP is only provided to those organizations that adhere to a higher standard of alternative pest control practices that reduce potential health risks to humans and the environment. EcoFirst Pest Control is also a proud partner of the United Nation's Foundation "Nothing But Nets" to help stop the spread of Malaria transmitted by the mosquito bite. EcoFirst dedicates a portion of company profits annually to "Nothing But Nets" providing insecticide-treated bed nets to help save the lives millions in underdeveloped countries.
###