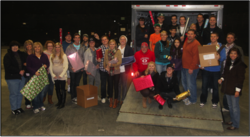 It's a great opportunity to serve our community in a meaningful and needed way - Vess Pearson
Salt Lake City, UT (PRWEB) January 10, 2012
EcoFirst Pest Control raised $13,000 in their first company holiday fundraiser that served more than 30 families from the inner city community of Salt Lake. All of the donations went toward providing Christmas for more than 100 people and also helped them with essential everyday needs. EcoFirst employees, family, and friends participated in a gift wrapping event on 12/17/11 to ensure all the items were wrapped and sorted for delivery on Christmas day.
A special thanks goes out to Drew Pearson and Cindy Andra for organizing the event. Drew expressed his appreciation by telling his coworkers, "I know that you will see blessings come from your desire to help others. I don't know all of the circumstances of the people that were helped, but what I do know is that we pulled together as a team to help relieve for just a small moment, the trials and suffering of those who are less fortunate. This is what I believe is the true meaning of Christmas."
Recipient testimonials:
"I could not have provided Christmas without your help! I have been in the hospital so much and have not been able to work for so long, that there would not have been Christmas at our home. My children have been trying so hard to be happy even though they knew they weren't going to get Christmas. My children were so surprised to get Christmas and so grateful to wake up Christmas morning with presents!"
Suzanne M.
"I am so grateful to everyone that helped with our Christmas! My children were so happy Christmas morning especially our older children because they know our situation and did not expect anything. I wish you could have seen the surprise on their face when they were opening their presents! They needed clothes and shoes so badly and to receive a new outfit on Christmas was so fun for them, since most of their clothes are hand-me-downs. They can't wait to wear their new outfits to school!"
Jack T.
"As a company, one of our primary purposes is to improve the quality of lives of the people we serve. We typically accomplish this by providing superior pest control services, however, this holiday we wanted to continue to make a positive impact in other ways," says David Royce, Founder and CEO of EcoFirst Pest Control.
"It's a great opportunity to serve our community in a meaningful and needed way," says Vess Pearson, President of EcoFirst. "Each of us live in very fortunate and comfortable circumstances… now was our time to give back during this holiday season."
The selected families were living in extremely humble circumstances – some of them are sleeping on the floor and many do not have coats, warm clothing or warm blankets. Royce and Pearson felt strongly that these unfortunate conditions presented a problem that demanded our full attention.
EcoFirst Pest Control is a trusted service provider in Salt Lake City and beyond but this company-wide holiday fundraiser shows that they are about more than just customer service – they are about community service. EcoFirst Pest Control specializes in residential pest management, and was recently been named by PCT magazine as the fastest growing pest control company in North America. EcoFirst is an accredited Better Business Bureau (BBB) business, and member of the EPA's Pesticide Environmental Stewardship Program. EcoFirst is also a proud partner of the United Nation's Foundation "Nothing But Nets" to help stop the spread of Malaria transmitted by the mosquito bite.
# # #