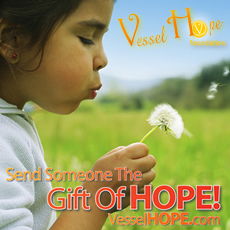 It's a miracle that people now have a way to anonymously be proactive in helping others.
Charlotte, NC (PRWEB) October 30, 2007
Vessel Hope, a division of Vessel World Media Inc., announces their launch of VesselHope.com. Vessel Hope will utilize Giftcards.com to power their charitable gift giving program at VesselHope.com. VesselHope.com will be the leading provider in anonymous giving in the form of prepaid Visa gift cards.
Vessel Hope was created by Desiree Summers with the intent of providing people a way to send an anonymous financial gift to friends, family, loved ones whom they know is in need. "Don't give a hand out, give a hand up today", is a motto Desiree and husband have lived by in their lives, and want to provide the opportunity for others to reach out and help those in financial need without the recipients feeling embarrassed, ashamed or indebted in any way. VesselHope.com launched on October 17th and Desiree feels, "It's a miracle that people now have a way to anonymously be proactive in helping others."
The idea stemmed from the beliefs and values that Desiree and William incorporate in their daily lives and instill in their three children. Their past experiences have led them to begin this program and provide the opportunity for everyone to reach out and help someone they know that is in monetary need. Desiree Summers believes, "Everyone knows at least 5 people that they can help today." And partnering with Giftcards.com provides Vessel Hope with the platform needed to provide a Vessel Hope Visa Gift Card.
Visitors to VesselHope.com will be able to purchase a Vessel Hope Visa gift card and anonymously send it to whomever they feel are in need. This form of gift giving is unique and honorable and will surely create a new way of sending gifts for the holidays as well as all year round. Jason Wolfe, CEO and President of GiftCards.com, LLC, added, "I was contacted by Desiree and William Summers in July 2007, and after hearing their story and the goal of the Vessel Hope Foundation, I felt it was something that our firm wanted to be a part of. The Vessel Hope Foundation takes the concept of giving to the needy to the next level, and we couldn't be happier to be working with these great folks".
About Vessel Hope™
Vessel Hope™ is based in Charlotte, NC and has developed a breakthrough anonymous financial gift giving program allowing people to help people they know in times of financial difficulty.
For more information visit: VesselHope.com or contact William Summers at (704) 504-3788 and William.Summers(@)VesselHope.com
###