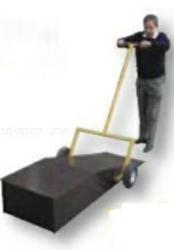 Vestil Never Sleeps
Chicago,IL (PRWEB) May 03, 2013
Vestil Manufacturing of Angola, Indiana has been a tier one line for A Plus Warehouse since 1996. Vestil manufactures loading dock and warehouse equipment domestically and imports quality equipment as well. Ed Stairman, the president of A Plus Warehouse has been quoted as saying, "Vestil Never Sleeps."
Mr. Stairman refers to the ferocity Vestil has in launching new products and broadening existing lines. Being a franchised Vestil Manufacturing Distributor is certainly an honor, although keeping up with Vestil's pace can be a challenge. Most recently, Vestil has broadened their offering of edge of dock levelers. Several sizes were added to accommodate customers. Years ago, 30,000 pound capacity units were manufactured on a special order basis. Vestil decided that since the items are already designed , why not drop them into the mix?
As a result, the Edge Of Dock Leveler page now shows extra heavy duty units and also one light duty. The magic does not end with this item. A Plus Warehouse also sells Vestil Wheel risers. Wheel risers are used to elevate the back of a truck that is too low for a loading dock. The issue with wheel risers is that they are very heavy. The steel units include forklift pockets for easy moving. Aluminum versions were left to be moves by caster sets. This design was sub-optimal, as customers would need to lift the aluminum riser onto a dolly. The engineers at Vestil solved this problem by creating a snap on riser cart. A Plus Warehouse has made the snap on cart and clips very easy to order as well.
Although Vestil is well known for their dock levelers and loading dock equipment, customers should realize that the line is far deeper than that. Here is a list of some of the other products produced by Vestil that A Plus Warehouse sells:
(1) Gantry Cranes – Vestil manufactures steel and aluminum gantries in USA
(2) Pallet Trucks – Including pallet trucks with built in scales and stainless steel
(3) Hoppers – Self Dumping – great for forklift use
(4) Work Platforms
(5) Dock Seals
(6) Dock Lifts
That is only a brief list of the lines available at Vestil Manufacturing.
Vestil handles specials regularly as well. Companies that only import have no capacity to modify items. With a highly efficient manufacturing system in USA , Vestil can make almost any item they produce with different dimensions and features for a reasonable cost. Special orders always include an approval drawing so customers can see exactly what they are ordering. A Plus Warehouse and Vestil both agree that customers need to know what they are ordering so that there are no unpleasant surprises on delivery. Happy customers are customers that get exactly what they expected – and better. A Plus Warehouse offers a trained staff that can handle any request in a timely and respectful manner.
Call 800-209-8798 with any question on Vestil Manufacturing or any of A Plus Warehouse's other lines.