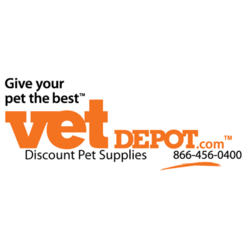 Encinitas, CA (PRWEB) January 26, 2012
As a guide for making 2012 a happy and healthy year for pets, VetDepot is releasing their customers' top rated pet medications of 2011. Although many loyal customers rely on VetDepot for low prices on all of their pet medication needs, a few products stood out in 2011 as VetDepot customer favorites based on health benefits and value for the money.
Frontline Plus came in at the top, helping canine and feline owners alike wipe out 100% of flea infestations within 18 hours. Frontline is a monthly topical flea medication that is also effective in getting rid of flea eggs, ticks and chewing lice and preventing further infestation. Another popular flea prevention favorite for dogs was K9 Advantix. K9 Advantix is an effective pet medication for killing fleas and protecting dogs and puppies against ticks, mosquitoes, flies and even lice.
One happy customer writes, "Florida has a high flea and tick population due to the hot weather and K9 Advantix is the best. I've never had a problem with fleas and I'm extremely pleased! What a great price on vetdepot.com!"
2011's top rated products also reflect the importance many pet owners are placing on joint care. With most pets experiencing some degree of joint pain or arthritis in their lifetime, it's no wonder that caring owners are choosing supplements that promote healthy joints. VetDepot customers had a lot of praise for the effectiveness of Cosequin joint support in helping their pets fight joint pain.
Prissy's mom from Willow Park, TX writes "After a friend and my vet both recommended Cosequin DS, I started Prissy on it. I noticed a marked improvement in her zest for life and ability to bounce around. She just acts like she's happier and feels better."
Another joint supplement favorite in 2011 was GlycoFlex. With a full range of products containing Glucosamine and MSM for dogs, cats and horses, GlycoFlex has become a trusted brand in joint support for pets with all stages of joint deterioration.
VetDepot offers the very same pet medications available from your local veterinarian with savings of up to 60%. VetDepot lets consumers save both time and money on all their pet supply needs. All VetDepot products are backed by their 100% Satisfaction Guarantee.
VetDepot is LegitScript certified, has an A+ rating with the Better Business Bureau and is committed to low everyday prices and excellent customer service. Check out their website at http://www.vetdepot.com or call their toll free customer service line at 866-456-0400. Give your pet the BEST!™
###