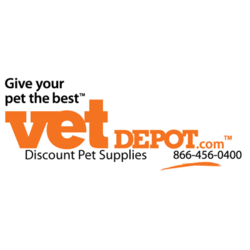 Encinitas, CA (PRWEB) January 30, 2012
It is estimated that more than 85% of dogs and cats ages 4 years and older suffer from some degree of periodontal disease. This staggering statistic has led the American Veterinary Association to declare February as National Pet Dental Health Month to raise awareness of the risks associated with dental disease in dogs and cats. VetDepot is proud to support Pet Dental Health Month and good dental care all year long by offering a wide range of dental products for pets at discount prices- making proper dental care both affordable and convenient!
Periodontal disease in pets can cause loose teeth, gum bleeding, mouth odor, pain and can even lead to infections that can harm the lungs, heart, kidneys or liver. A home dental care regimen for pets in combination with veterinary advice is crucial in making sure your beloved pet doesn't become a dental disease statistic. Despite the dangerous consequences of not providing adequate pet dental care, the American Pet Products Association reports that only 26% of dog owners have purchased a dental care product in the past year.
For those pet owners that don't know where to begin with dental care for their pets, VetDepot has compiled a list of good oral hygiene basics:
•Only use toothpaste that is formulated for pets! Human toothpastes aren't meant to be swallowed. Toothpaste for dogs and cats often comes in pet friendly flavors to make the task easier for everyone involved.
•Establish a dental care routine. Your pet may not be a fan of the toothbrush the first time he's exposed to it. However, if Fido realizes that his teeth are going to be brushed every night with a treat and plenty of love to follow, he will likely settle into a routine and stop putting up so much of a struggle.
•Consider a Dental Treat. Although treats and chews don't replace the need for brushing, they are an easy way to supplement your pet's good oral hygiene regimen. Greenies and CET Chews for dogs and cats are two great choices that many VetDepot customers have come to rely on.
•Don't Skip Vet Checkups. Your veterinarian will examine your pet's teeth and gums for anything of concern and will make recommendations about homecare. If dental disease has already progressed, your vet may recommend extractions or other treatment based on your pet's individual case.
VetDepot offers the very same pet meds available from your local veterinarian with savings of up to 60%. VetDepot lets consumers save both time and money on all their pet supply needs. All VetDepot products are backed by their 100% Satisfaction Guarantee. VetDepot is LegitScript certified, has an A+ rating with the Better Business Bureau and is committed to low everyday prices and excellent customer service. Check out their website at http://www.vetdepot.com or call their toll free customer service line at 866-456-0400. Give your pet the BEST!™
###