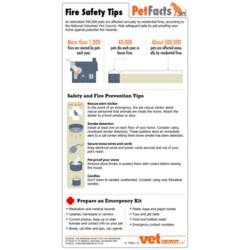 Encinitas, CA (PRWEB) November 28, 2012
With winter just around the corner and temperatures dropping, families across the country are turning on their heaters, lighting up their fireplaces and decorating for the holidays. Unfortunately, all of this winter fun means an elevated risk of residential fires. Dry Christmas trees, lit candles, strings of holiday lights and curious pets can all contribute to a potential fire hazard. With their newest infographic, VetDepot is reminding pet parents to keep fire prevention and pet safety in mind.
Tips for Pet Owners:
Spend Some Time Pet-Proofing: Pet owners should make sure all electrical wires and power cords are out of canine and feline reach.
Consider Switching to Flameless Candles: Candles can be a serious fire hazard with four-legged family members running around. Consider switching to the flameless variety to get the candle effect without the danger.
Install Smoke Detectors: For the safety of both people and pets, smoke detectors should be installed on each floor of the home. Testing smoke alarms once a month ensures safety all year long.
Warn Emergency Workers with an Alert Sticker: A pet rescue sticker should be placed in the front window with the number of animals inside the home.
Prepare a Pet Emergency Kit: In case of fire or any other emergency, it's a good idea to have an emergency kit packed ahead of time. A pet emergency kit should include an extra leash or carrier, a supply of food, bottled water, plastic bags, paper towels and a copy of medical records.
About VetDepot: VetDepot offers the very same pet products available from your local veterinarian with savings of up to 60%. All VetDepot products are backed by their 100% Satisfaction Guarantee. VetDepot is LegitScript certified, has an A+ rating with the Better Business Bureau and is committed to low everyday prices and excellent customer service. Check out their website at http://www.vetdepot.com or call their toll free customer service line at 866-456-0400. SAVE MORE. GIVE YOUR PET THE BEST.™