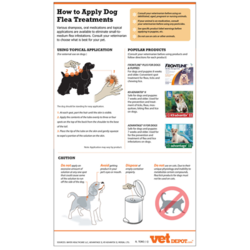 Encinitas, CA (PRWEB) April 26, 2012
Flea protection is an important part of pet ownership. It not only saves pets from suffering from an itchy and uncomfortable infestation, but also protects pets from the dangers associated with fleas including anemia. With spring upon us and flea season in full swing, many pet owners are getting serious about flea prevention. When used properly, popular flea control products like Frontline Plus and K9 Advantix are great for keeping these pesky parasites away.
Tips for Safe and Effective Flea Treatment:
•Consult With a Vet: Even if a pet owner is considering purchasing an over-the-counter product, a veterinarian is still a great resource for choosing the right flea treatment for an individual pet. A pet's veterinarian can also answer any questions or concerns regarding flea control products.
•Follow Guidelines: Flea medication manufacturers print age and weight guidelines on packaging for good reason. Whether pet owners choose a topical flea product or an oral preventative, failing to follow age or weight guidelines could result in a dangerous overdose.
•Never Use a Dog Product on a Cat: Due to their unique physiology, flea products that contain an ingredient called permethrin or are labeled "for dogs only" should never be used on cats. Failure to abide by these guidelines could be harmful or even fatal for a cat.
•Avoid Ingestion: When administering a topical flea control product, be sure to not get any solution in the animal's eyes or mouth. Also, keep all medications safely out of reach from curious animals and children. If swallowed, immediately contact a poison control center or a medical/veterinary professional.
For how-to guides on safely applying topical flea treatment, check out VetDepot's dog flea control application infographic and cat flea control application infographic.
About VetDepot: VetDepot offers the very same pet products available from your local veterinarian with savings of up to 60%. All VetDepot products are backed by their 100% Satisfaction Guarantee. VetDepot is LegitScript certified, has an A+ rating with the Better Business Bureau and is committed to low everyday prices and excellent customer service. Check out their website at http://www.vetdepot.com or call their toll free customer service line at 866-456-0400. Give your pet the BEST!™