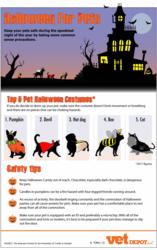 Encinitas, CA (PRWEB) October 24, 2012
With October 31st just around the corner, VetDepot is reminding pet parents to keep their four-legged family members safe. With their Halloween infographic, VetDepot is sharing important safety tips every pet owner should be aware of.

Keep Costumes Comfortable: Pet costumes are a cute and festive way to celebrate Halloween, but owners should make sure their pet's movement and breathing isn't restricted by their outfit. It's also important to make sure pet costumes don't contain any small pieces that could be potential choking hazards.
Beware of Jack-o'-Lanterns: Carving pumpkins is a fun Halloween tradition, but lit candles inside of pumpkins can be hazard with pets running around. Owners should make sure all candles are out of reach from furry family members.
Keep Human Treats Away from Pets: Halloween is synonymous with trick-or-treating, which means there will likely be plenty of chocolate around the house. Since chocolate is dangerous for pets, owners should be cautious about keeping Halloween treats away from pets.
Avoid Anxiety: Trick-or-treaters ringing the doorbell, parties, and all of the excitement that accompanies Halloween can cause anxiety for pets. Animals should be kept inside and have a calm place to rest away from all of the commotion.
Make Sure Pets have ID: Trick-or-treaters mean opening the front door repeatedly throughout the night. Although pets should be kept safely away from the commotion, it's a good idea to make sure all animals are equipped with a collar and ID tag in case one does manage to slip out the door. Microchipping pets is also something to consider.
These few easy-to-follow tips will ensure pets stay safe on Halloween.
About VetDepot:
VetDepot offers the very same pet products available from your local veterinarian with savings of up to 60%. All VetDepot products are backed by their 100% Satisfaction Guarantee. VetDepot is LegitScript certified, has an A+ rating with the Better Business Bureau and is committed to low everyday prices and excellent customer service. Check out their website at http://www.vetdepot.com or call their toll free customer service line at 866-456-0400. Save more. Give your pet the BEST!™