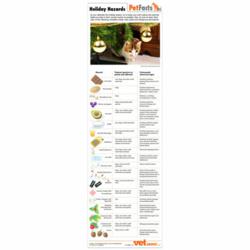 Encinitas, CA (PRWEB) December 20, 2012
With Christmas just days away, VetDepot is urging pet parents to be mindful of holiday hazards. From decorations, to food, to popular wintertime medications; there are several dangers for pets lurking this time of year.
The holidays are synonymous with a lot of food. It's important for pet owners to be careful of foods that could be potentially dangerous for pets. Desserts containing chocolate are a well-known pet danger, but chocolate is far from the only food hazard. Other dangerous foods include macadamia nuts, grapes and raisins. Beverages aren't without risk either. Pet owners should make sure holiday cocktails and caffeinated beverages stay safely out of reach from curious pets.
Holiday decorations are another wintertime danger for four-legged family members. Electrical cords should be kept out of reach to prevent chewing. Mistletoe can cause gastrointestinal upset and even cardiovascular problems. Holly can also cause gastrointestinal discomfort. So, when dressing up their houses with holiday cheer, pet parents should keep safety in mind.
Also, winter is unfortunately cold and flu season. Human medications can be life-threatening if ingested by animals, so all meds should be kept in a place where pets can't get to them. For a complete list of dangers that accompany this time of year, refer to VetDepot's Holiday Hazards Infographic. Being mindful of these dangers ensures a safe and stress-free holiday for pets and people!
About VetDepot: VetDepot offers the very same pet products available from your local veterinarian with savings of up to 60%. All VetDepot products are backed by their 100% Satisfaction Guarantee. VetDepot is LegitScript certified, has an A+ rating with the Better Business Bureau and is committed to low everyday prices and excellent customer service. Check out their website at http://www.vetdepot.com or call their toll free customer service line at 866-456-0400. SAVE MORE. GIVE YOUR PET THE BEST.™