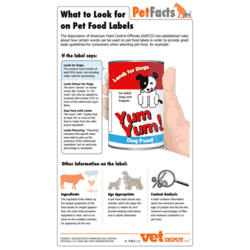 Encinitas, CA (PRWEB) August 30, 2012
Nutrition is an important component of your pet's overall health and wellbeing. Pet food should ideally supply complete nutrition so that an animal can thrive without supplementing their diet. Depending on the stage of life and species, complete nutrition might include proteins for necessary amino acids, whole grains, vegetables, vitamins, minerals, fatty acids and other nutrients.
Unfortunately, it's easy for pet owners to make incorrect assumptions about what their pet is eating when reading pet food labels. To educate pet parents about how to choose the right pet food formula for their four-legged family members, VetDepot has released a "What to Look for on Pet Food Labels" infographic based on recommendations made by the Association of American Feed Control Officials (AAFCO).
According to VetDepot's infographic, the exact wording on pet food packaging is very important to pay attention to. For example, the AAFCO mandates that pet food packaging labeled "chicken for dogs" must contain at least 95% chicken, whereas "dog food with chicken" must only contain 3% of the referenced protein. Knowing these differences in pet food label language is crucial in determining which food offers the right nutrition.
It's also important for owners to choose a pet food that is appropriate for their animal's age and lifestyle. There are pet food varieties specially formulated for adult pets and seniors. There are even foods designed to support the caloric needs of highly active dogs or help with skin irritation for pets that suffer from allergies. All of these specific guidelines should be clearly indicated on the pet food label along with feeding instructions and caloric information.
Lastly, pet parents should be sure to read the ingredients list. The ingredient that makes up the largest percentage of the food based on weight appears first, followed by the next most prevalent ingredient and so on. In most cases, the first ingredient should be some form of protein and not corn.
Owners should always consult with a veterinarian regarding any questions they have about pet food labels or before changing their pet's regular diet.
About VetDepot:
VetDepot offers the very same pet products available from your local veterinarian with savings of up to 60%. All VetDepot products are backed by their 100% Satisfaction Guarantee. VetDepot is LegitScript certified, has an A+ rating with the Better Business Bureau and is committed to low everyday prices and excellent customer service. Check out their website at http://www.vetdepot.com or call their toll free customer service line at 866-456-0400. Give your pet the BEST!™