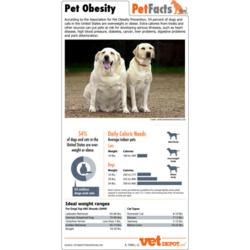 Encinitas, CA (PRWEB) May 31, 2012
To help combat the rising pet obesity rate, VetDepot has released a Pet Obesity Infographic to spread the word about this dangerous trend. According to the Association for Pet Obesity Prevention, 54% of dogs and cats in the U. S. are either overweight or obese. This alarming statistic is putting America's pets at serious risk for deadly conditions including heart disease, high blood pressure, cancer and diabetes. An overweight animal is also more likely to experience digestive problems and joint pain.
To help keep their canine and feline companions from becoming a statistic, pet parents should follow these tips for keeping their pets at a healthy weight:
•Get Active: A walk, jog, or a trip to the dog park are all great ways for both owner and dog to get some exercise. It's important to commit to a daily routine so that exercise becomes a normal part of everyday life. Cat owners can encourage activity for their feline companions by providing toys that kitty can chase.
•Commit to a Healthy Diet: Just like people, pets need to eat a diet that's high in protein and low in empty carbohydrates. Look for a pet food that lists a protein as the first ingredient. Owners with pets that have a serious weight problem should speak with their veterinarians to figure out the best diet plan for their individual animal.
•Support Healthy Joints: Dogs and cats that are able to stay active into their later years are less likely to become overweight. In order for an animal to stay active, joint health must be maintained. Owners should opt for multiple short walks per day instead of fewer long walks to avoid joint pain. Joint support supplements like Cosequin and Glyco-Flex are also available for both dogs and cats to support joint health and mobility.
•Cut the Table Scraps: Fatty people foods shouldn't be used as pet treats. It's a good idea for pet owners to stick to healthy treats meant for canine or feline consumption and to practice moderation with any food given as a reward.
By making a few lifestyle changes, pet owners can keep their pets at a healthy weight, giving their four-legged companions the best chance at a long and happy life.
About VetDepot: VetDepot offers the very same pet products available from your local veterinarian with savings of up to 60%. All VetDepot products are backed by their 100% Satisfaction Guarantee. VetDepot is LegitScript certified, has an A+ rating with the Better Business Bureau and is committed to low everyday prices and excellent customer service. Check out their website at http://www.vetdepot.com or call their toll free customer service line at 866-456-0400. Give your pet the BEST!™