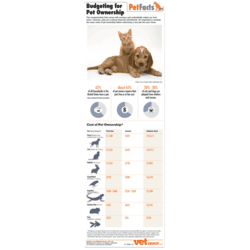 Encinitas, CA (PRWEB) January 31, 2013
VetDepot is releasing a new infographic to remind potential pet owners that bringing a new pet into the home is a serious financial commitment. Pets undoubtedly offer companionship, love and make life richer. However, it's important to budget for their needs.
For example, the average medium-sized mixed breed dog has a lifetime cost of $10,615, with the average first year cost being around $1,580. These figures don't even include the cost of the pet itself or any emergency veterinary care. Below are some tips for keeping the costs associated with pet care as manageable as possible:
•Opt to adopt instead of purchasing a pet: It's typically a great deal less expensive to adopt a pet from a shelter instead of purchasing one. An added money-saving bonus is that many shelters spay or neuter dogs and cats before adoption, saving the new owner the cost of the surgery.
•Order pet medications and supplies from a reputable online pharmacy like VetDepot: Pet owners can often find lower prices than at their veterinarian's office or neighborhood pet store.
•Spend a little to save a lot: Spending money on preventative care can help save pet owners money down the road. Vaccinations, flea and tick treatment, heartworm medication, and annual vet checkups all help prevent serious (and costly) medical problems from occurring.
•Buy in Bulk: Purchasing larger quantities of pet food, treats and other supplies is typically the most cost-effective way to shop for pet supplies.
About VetDepot: VetDepot offers the very same pet products available from your local veterinarian with savings of up to 60%. All VetDepot products are backed by their 100% Satisfaction Guarantee. VetDepot is LegitScript certified, has an A+ rating with the Better Business Bureau and is committed to low everyday prices and excellent customer service. Check out their website at http://www.vetdepot.com or call their toll free customer service line at 866-456-0400. SAVE MORE. GIVE YOUR PET THE BEST.™